Procurement officers have undergone training on best-practices for assessing bids for big projects funded by development banks, in-cluding the Inter-American Development Bank (IDB).
This follows the conclusion of a two-day workshop on Procurement Training and Capacity Building for Project Exe-cuting Agency Personnel on IDB-Financed Projects on Tuesday, which saw the participation of 50 procurement officers from project executing units for IDB-financed projects, Government of Guyana ministries and members of the Guyana Association for Professional Engineers (GAPE).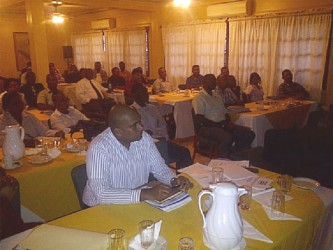 The workshop, which was hosted at the Grand Coastal Inn, saw participants taken through guidelines during interactive sessions with International Federation of Consulting Engineers member Robert Cochrane on assessing and dealing with constraints for internationally-funded projects valued over US$10M.
Speaking at the closing of the workshop, Junior Finance Minister Juan Edghill charged the participants to use the knowledge gained to ensure that taxpayers get value for money as their jobs are reflective of government's progress.
"Let's get out there and put it to good use… when all is said and done, a government will always be judged by the way it delivers goods and services and contracts are important… from the time people hear contracts certain bells go off," Edghill said.
He also emphasised the importance of being neutral and not "getting too personal" with contractors, which can lead to biases affecting the quality of services delivered.
At the same time, he also stressed the need for fairness and quality of work all at a "good price."
Cochrane, who is based in the United Kingdom, pointed out that the local participants had a wealth of knowledge in dealing with small contracts but that assessing and making decisions when given theoretical situations relating to large contracts proved a difficulty. Nonetheless, he was confident that equipped with guidelines and material relevant to large contracts, the group would be poised for excellent project management when dealing with large projects in the future.
Around the Web