Sixteen residents of the Uncle Eddie's Home and three residents from the Millicent Greaves Seniors Residence in D'Urban Backlands travelled to the Splashmins Resort yesterday for a picnic and day's outing coordinated by Resident Care Committee members Maria Rodrigues and Eliza Hackett.
When Stabroek News yesterday visited the Uncle Eddie's home at 826-829 Jackson Street, Tucville, Georgetown,  the majority of the residents selected for the trip were already on board the Splendour land tour bus.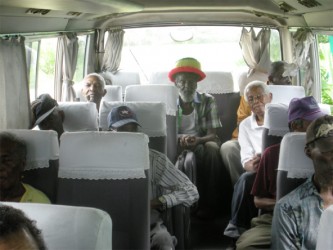 Ovid Smith, 81, stated that he was not too ecstatic about the outing but was grateful that he was getting the opportunity after being enlisted in the home three weeks ago. Wendy Wiltshire, 68, said "I am excited to go on this trip… but I will only sit and talk", when asked about her plans for the day, holding on to a blue shopping bag in her hand which she said held her sun hat. And others expressed how excited they were about the trip, with most opting to read and converse.
Rodrigues told Stabroek News that this trip signals the re-starting of activities for the residents. "It is needed to make life meaningful…" opined Rodrigues. She voiced disappointment at the  little or no coverage for the seniors, especially since it is the month designated to celebrate Senior Citizens.
The trip, according to Rodrigues, was mainly sponsored by two United States-based Guyanese, Ernestine Mc Allister and Pamela December. Water was provided by Banks DIH Limited and the Guyana Defence Force took care of transportation.
The residents were accompanied by two care givers, a mentor and three committee members including Rodrigues.
Around the Web