The suspect in the fatal beating of Lusignan       resident Maharanie Parmanand 0had been convicted for assaulting her and fined in his absence with an alternative of eight months imprisonment, but the woman's family says police failed to pick him up although he could be seen walking the streets daily.
"The police last night tell we that the story, when he bruk up she hand and foot, that Reaz went to court and them say he got a $70,000 fine or eight months if he didn't pay but nobody never call to tell them where he deh," Kavita Persaud, daughter of the dead woman, told Stabroek News yesterday.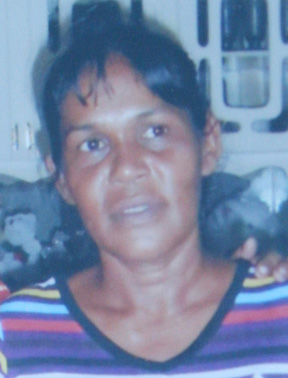 Parmanand was discovered dead by neighbours, hours after she was allegedly beaten by her common-law husband Reaz Fazil, who has since gone into hiding and has not yet been found.
Persaud, the eldest of Parmanand's three girls, recalled the beatings her mother suffered at the hands of Fazil, saying that her mother was pulled from the house in an unconscious state with multiple broken bones and lacerations about her body.
She said that after spending months in hospital, she moved her mother to her Good Hope home.  "I thought she would dead then. All two of her hands he bruk up, all two she foot all over her gat steel… her face you couldn't recognise and she swell all over," she said.
Yesterday she informed that it was on the 28th of December last that her mother suffered the injuries.
A senior police source confirmed that the man had been fined in absentia for the December, 2012 assault and that he was wanted by police to meet court obligations.
The source, however, directed this newspaper to Police Public Relations Officer Ivelaw Whittaker for details of the wanted bulletin.
The source had the information but could not speak to the media as Whittaker, the Crime Chief and Commissioner of Police are the only official channels the media has in accessing information from the force.
When contacted by Stabroek News yesterday, Whittaker informed that he would verify the information and to call back. However, when Stabroek News called the Police Public Relations Department at 4:01pm, an officer there said that he had left for the day and that no information on the case was left
Meanwhile, Persaud said that she was never aware of the dates the case was called but on the date of the ruling she received a call from police informing of the magistrate's decision.
"When he went to court, they call we home here—my mother was home here—and they say, 'Reaz get loose. The story went up the court and de story just done," she noted.
She believed that not much effort was made by police to apprehend the man. "Reaz is walk all over. They know he and they never collect he. He is deh all over riding, walking, working," she said.
A family member charged that Fazil was given preferential treatment by the police because he is the relative of a well known auto dealer on the East Coast. "Police frighten to do Reaz anything because he is like brother to (name given) and them police is deh by he brother most day," he said.
"What justice she family could get when although dem know they brother is a bad egg, they get money to give police since anything happen to he," he added.
Neighbours said that calls had been made to the Vigilance Police Station on numerous occasions when the couple fought and that the police would sometimes visit but that they too became "fed up" of late and they stopped.
"Man that is how they always deh every time dem a drink up the likka and a cuss up and he a beat she up… when they lick up and bruk down too much, we call the police but we fed up 'cause that a normal. Dem fight today, tomorrow dem a love up," one neighbour, who lives a few houses away, said.
Asked if any of the women in the village ever approached Parmanand about the abuse, she responded, "You don't get in man and woman story because sometimes she tek he back and we to get buse. And who guh look like fool? Me? Nat me babes," she said.
Police have said that Parmanand had been found dead with blood oozing from her nostrils at around 3pm on Wednesday and they are awaiting the results of an autopsy.
Around the Web