Maharanie Parmanand, found dead on Wednesday after an alleged beating at the hands of her common-law partner in Lusignan, died of brain hemorrhaging that resulted from blunt force trauma to her head, an autopsy revealed yesterday.
Her daughter Kavita Persaud told Stabroek News that the family was also told by the pathologist that her mother had sustained "serious blows" in the area of her abdomen. Persaud said that the family has not been told by police what their next course of action will be.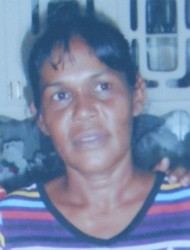 Parmanand was discovered dead by neighbours in her home hours after she was allegedly beaten by her common-law husband Reaz Fazil, who has since gone into hiding and has not yet been found.
Her family, friends and neighbours recalled years of abuse she had suffered at the hands of Fazil, who was convicted for a vicious assault on her and fined in his absence. He, however, did not pay the $70,000 fine and continued to walk the streets a free man although he was liable to serve an eight month jail sentence for failing to pay the fine.
The previous attack occurred on December 28, last year, when Fazil battered Parmanand, leaving her for dead. Neighbours pulled her from the house in an unconscious state with multiple broken bones and lacerations about her body. She spent several months in hospital and then at her daughter's Good Hope home  recuperating but returned to live with her abusive partner last June.
Police have not explained why Fazil was not arrested and why no wanted bulletin was issued for him following his conviction in absentia.
Police yesterday were still unable to give an update on the case, with its Public Relations Department informing that spokesman Ivelaw Whittaker was out of office and would not be returning for the day. It is the second day that Stabroek News has tried soliciting information from Whittaker to no avail.
Around the Web