The Ruimveldt Children's Aid Centre is inviting persons to contribute their time and/or skill to the centre to help them to make an even greater impact on the lives of children there.
In a statement Subrina Mohamed-Puran, who has been a volunteer coordinator (based in Toronto) for the Centre over the past eight months, said she was first made aware of the centre in a newspaper article when the students attached to it launched a CD to raise funds to purchase a new stove for the centre.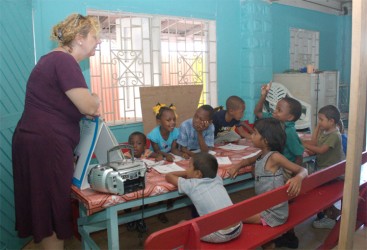 The centre, located at 13 Public Road, Ruimveldt has been operational since July 18, 1991. It hosts an after school reading and learning programme weekdays and on Saturdays, a remedial reading programme. The centre also has an active choir, dance, drama and offers singing classes. The programmes are run by Mrs Murray, Mrs December, Ms Saygon and Ms Hatfield who also rely heavily on volunteers.
Mohamed-Puran said during her last trip to Guyana she and the volunteers wanted to do something special for the children and decided to prepare hampers with a full month's worth of groceries for 64 families. Parents of the children who attend the centre were invited to receive the gift and to talk about the impact the centre had had and continues to have on their children.
Persons interested in volunteering at the centre can contact Ms Saygon at rcac@guyana.net.gy or via telephone number 227-3092.
Around the Web