The 25th Annual Exhibition of the Guyana Women Artists' Association (GWAA) is now open at Castellani House, which is featuring over 50 displays from 13 female artists.
Founded in the late 1987, the GWAA serves to encourage the creative efforts of women artists and to further support those who seek personal fulfillment, careers, or self-employment through art.
The turnout on the opening of the exhibition on Thursday evening was satisfactory, with visitors from all age groups, Stabroek News was told.
The work displayed ranges from paintings, sculptures and ceramics to glassware, clothing, and even books. No central theme was displayed within the works, with each artist depicting what touches her the most.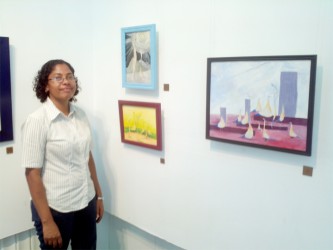 Some of the prominent artists included in this year's exhibition are O'Donna Allsopp, who's been with the GWAA from its inception 25 years ago; Jennifer Gibson, a Textile Artist/ Designer with over 30 years of experience; and Anna Correia, a ceramist who began her career in art in 1988.
When Stabroek News visited Castellani House yesterday, artist Tara Bentinck, 36, who has nine pieces in the exhibition and who has been with the GWAA for eight years, was present. Bentinck graduated from the ER Burrowes School of Art as Best Graduating Student in 2002 and now teaches art part-time.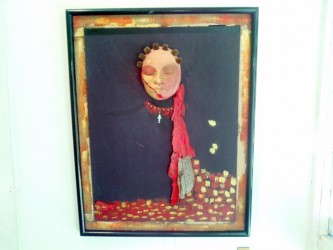 She is no stranger to exhibitions and has displayed her art at several showcases, including the recent 'Kiss My Art' festival.
According to Bentinck, her theme centres on the Ixora flower and butterflies.
When asked if female artists have problems receiving support, Bentinck said no.
According to her, people are often supportive. "My parents, especially, used to encourage me by providing me with paint and markers and coloured pencils and paper. So, personally I've never had that problem."
Joining the GWAA is fairly simple; one only needs two recommendations, one from within the association and one external to it.
No formal education is required, only talent and love.
The exhibition is slated to run until November 16. Gallery hours are 10am to 5pm from Monday to Friday and 2 to 6pm on Saturday. Admission is free.
Around the Web