The death of a Victoria rice farmer, who is reported to have fallen off his tractor and died hours later on his way to the hospital, is being investigated by police, who have held three persons on suspicion of foul play.
Fitzpatrick Blair, 61, of Lot 9 Belfield Housing Scheme, Victoria, East Coast Demerara, succumbed to his injuries on Thursday evening as his family tried frantically to rush him to the George-town Public Hospital.
A source at the Cove and John Police Station said that they are trying to ascertain the circumstances leading up to Blair's death. However, they suspect foul play. According to the source, the three men who were detained were present at time Blair called his home, telling a relative that he was dying.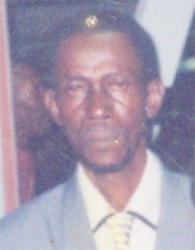 "He call me and said, 'Girl I feel like I dying please put on Lydia [his wife] let me talk to her' but I tell he to stop making serious jokes," said his cousin Rhianna Hamilton.
Hamilton recalled that around 5 pm on Thursday, she received a call from a man who was working in the rice field with Blair. "He tell me that the bus run over Junior," she said, recalling hearing laughter in the background. "I thought they were joking but then another one of them call and said that Junior just fall off his tractor and he hurt."
She said Blair arrived home around 8.30 pm with a few of the men and he was crying out about pains in his ribs. "He come and ask to go to the toilet and one of the boys carry he and then we carry he to the hospital. Is till then that we know that he was serious and that something happen," she said.
Hamilton said the family suspected foul play since Blair and two of the men had issues concerning tenancy of the field. She said her cousin had refused the men when they approached him to lease the land. "He gave it to someone else and since then they had problem… but that they were all drinking…I thought they were joking…I didn't expect…," she said.
Blair's wife, Lydia, is reeling from the news of her husband's death. Relatives said she refused to believe he was dead and they are left to wonder about the circumstances of his death until a post-mortem examination is performed.
Around the Web