The National Assemblies of Guyana and Suriname are looking to craft a relationship that will enable them to better understand the systems in each country and ensure that legislation is not detrimental to either state.
"We will open the lines of communication, exchange documents about our parliamentary systems and practices and look for ways to cooperate at the levels of Caricom and Unasur," said Speaker of Guyana's National Assem-bly Raphael Trotman at a press conference at Public Buildings yesterday. In attendance was Speaker of Suriname's Parliament Dr Jennifer Geerlings-Simons and her delegation.
During meetings here, they have been examining ways to work together. "It is proposed that we have maybe a contact group where we agree to meet regularly with an agenda and so forth," Trotman said. "In principle it was agreed that we would become closer, share experiences, share knowledge, even share systems…."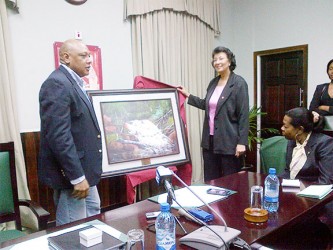 Trotman is expected to make a similar visit to the Dutch-speaking nation when it is expected that the cooperation will be formalised. Reports on the visit will be made to the National Assemblies of each country.
Geerlings-Simons said that an improved relationship could help to minimise misunderstandings and said that there might be times when it would be useful for either Assembly to know how the other would be crafting legislation. "If we might consider legislation in Suriname, maybe on economical issues, it might be wise for Suriname or Guyana or the other way around to know what Guyana is doing on that issue so that we don't make legislation that might backfire," she said.
Trotman said that the objectives of the visit—to reach out a brotherly and neighbourly hand of friendship to a sister Assembly; to compare and contrast parliamentary systems to see how they could learn from each other and even adapt some best practices; and explore the opportunities for finding a mechanism to ensure a more formal and delineated relationship between the Parliaments and peoples so that the many co-related issues that are faced can be better understood and dealt with—have been achieved.
Among the cross-boundary issues identified by Trotman were migration, crime, sharing of knowledge and resources, and the border dispute that exists between the two states.
The Surinamese team had discussions with President Donald Ramotar, Prime Minister Samuel Hinds, Leader of the Opposition David Granger and also met with the Foreign Relations Sectoral Committee of the National Assembly, which was said to be unprecedented.
Meanwhile, Geerlings-Simons also spoke on some of the differences between the Surinamese Parliament and Guyana's Assembly. She said that there are no ministers in the House and there is not a formal constitutional opposition but there are party groups. As such, how issues are dealt with there, is different from what obtains here and she said there is a little more room for flexibility. For example, she said that any document that comes to the National Assembly will have to be shared with the House in its entirety. "Everything that comes to me I have to share with the opposition," she said.
As it relates to Bills passed by the National Assembly, these are sent directly to the President, who has to approve and publish the legislation, the Surinamese Speaker said.
Meantime, Geerlings-Simons refused to comment on President Desi Bouterse. The Speaker was asked whether she was concerned about the image of Suriname given the president's conviction in Holland on drug-trafficking charges and the arrest of his son on drug charges in the United States. "I do not wish to comment on Holland or my President," she said.
Around the Web