Guyana needs to begin frontally discussing sexual and reproductive health issues with children since the reality of not doing so has seen young women losing their lives pursuing illegal abortions.
"The lack of knowledge and/or this continued refusal of parents and others to speak out and advise out young people…have led to tragic consequences. Many young women lose their lives pursuing illegal abortions," said First Lady Deolatchmie Ramotar.
She was at the time speaking at a function to celebrate the 40th anniversary of the Guyana Responsible Parenthood Association which also launched the International Planned Parenthood Foundation (IPPF) Vision 2020, on Sunday at the Seawall bandstand.
"This subject of sexual and reproductive health and rights is often taboo and is hardly being discussed by parents and their children and even in the school," Ramotar who heads the First Lady's Foundation for the Promotion of the Positive Family stated.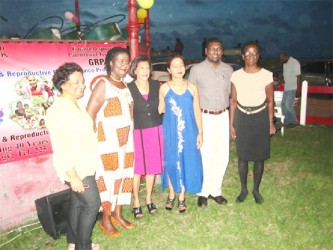 Ramotar opined that the lack of discourse is possibly due to religious beliefs.
"They [church leaders] all express their disapproval of sex before marriage. While agreeing that this is ideal and I must say that I believe this too… We must also be realistic we must fact reality and try to deal with it the best we can," she asserted.
In December 2011, a young mother Karen Badal of Lot 2 North Vigilance, East Coast Demerara, was four months pregnant when she died as a result of a perforated uterus and acute peritonitis because of a blotched abortion.
The doctor who allegedly performed the termination on Badal then denied his role.
The case sparked outrage and protests from local women's right organisations.
Other protestors agreed that a list of licensed doctors should be accessible to the public in order to prevent such situations. "If they have a list of doctors they should publish it so people can become aware. If it's on their [the Medical Council] site, then not everyone can have access to a computer and also, not everyone can read to get this sort of information. They should publish it in the papers and on the television," one woman opined.
The Ministry of Health has never issued a report on the case.
Sunday's activities at the Sealwall location attracted many youths who use the spot as a Sunday afternoon recreational activity. Many listened keenly and weighed in on the First Lady's comments.
A young mother of two, agreed that sexual reproductive health was not being discussed enough and said that it should be taught as a topic in schools. "That woman is right it happening from them old time days, so she know and it still happening now     parents frighten to talk about sex but the children going and if they have to get away and all they still going and try to see what is this beautiful thing that nobody want to talk to me about,' she said. The 23-year-old, who has an eight-year-old and a one year old used herself as an example saying that had she been edified she believes that her choices would have been different. "When I was going to school, I get catch with she," she said rubbing the head of her older child. "If there was someone to tell me about condom or pills and injection and dem things I aint saying I wouldn't a still thief lil bit but I wouldn't a get she and had to drop out a school," she added.
The First Lady pointed out that in Guyana sexual and reproductive health and rights were linked to many major challenges such as poverty, domestic abuse, maternal mortality, especially as a result of unsafe abortions and teenage pregnancies among others.
It is for these reasons, she said, that everyone should pledge to commit and support the IPPF's Vision 20/20 and the work of the GRPA. "Sustainable development cannot occur exclusively with economic growth but must also encompass other spheres such as social development, which is putting people at the centre of development," she said.
President of GRPA Pamela Nauth pointed to a goal in the 20/20 vision that aims to reduce maternal mortality due to unsafe abortions by 75%.
She later told Stabroek News that while she was pleased that the public health facilities indirectly provide support to women who would have had blotched abortions she endeavours to see the option of free terminations in the near future. As such whenever engaging policy makers she always advocates for same.
In her presentation she also highlighted depleting donor funds for her agency's cause but said that nonetheless the organisation will continue to do the best it can. "Global funding for sexual and reproductive health and rights has decreased radically, while 222 million women and girls worldwide still lack access to the contraceptives they want and need," she said.
She said while progress has been made in establishing gender-based violence as a human rights concern, little headway has been made in addressing violence against girls and women as a public health issue. "There is a notable absence of attention to this issue in reproductive health policy making…'" she noted.
Nauth explained that the 20/20 Vision manifestation consists of ten targets: halving the poverty gap between the rich and poor by 2020; eliminating discrimination against women by 2020; engaging young people in all policy decisions; and integrating SRHR services within all health systems. The vision also calls for comprehensive sexuality education for all by 2020, reducing maternal mortality due to unsafe abortion by 75% and allocating resources to achieve targets by 2020.
Around the Web