A young sugar estate employee succumbed yesterday following an accident at De Kinderen, West Coast Demerara, one week after he celebrated his 19th birthday.
Ahad Sheik, a driver attached to the Uitvlugt Sugar Estate, according to eyewitnesses, was proceeding south along the public road at De Kinderen, when he attempted to overtake a minibus, which was proceeding in the same direction. The eyewitness said that when he realised that a Canter truck GKK 1849 was in proximity, Sheik attempted to swerve his motorcycle into the bushes but he was unable to do so in time.
He was hit by the truck. Family members said his eyes were badly gouged as his face came into contact with the rear view mirror of the Canter.
He was then taken to the Leonora Cottage Hospital, where he was pronounced dead on arrival.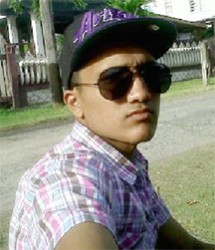 His body was later taken to the Ezekiel Funeral Home.
When Stabroek News visited his home of Sheik's family was preparing for an evening wake following his death. His father Mohammed Sheik said that his son, who worked with him at the estate, had just finished having lunch when he received a phone call from his friend.
His father added that his friend informed him that he had just refurbished his motorcycle. This, Mohammed said, excited his son. Sheik then decided that he was going for a ride on the motorcycle.
Mohammed said that it was a mere few minutes after his son left the house he received a phone call informing him of his demise.
The motorcycle driven by Sheik, sources said, was unregistered at the time of the accident.
Sheik's mother, who wept uncontrollably, was too distraught to speak to the media.
The driver of the Canter is in police custody assisting with investigations.
Around the Web