The rebuilt East Street Nursery School was commissioned yesterday and Education Minister Priya Manickchand boasted that both the new building and the teaching within its walls are meeting international standards.
The keys of the new school building were handed over to head teacher Belinda Cameron yesterday at a ceremony held within the school's compound.
Although the school was commissioned yesterday, it had been operating since mid-September, when it reopened. The reopening for the new school term was delayed for the completion of works on the school building.
In July of this year the school building was torn down due to extreme dilapidation and vermin infestation. Bassoo and Sons Construction was contracted to rebuild the school, which was reopened on September 16, two weeks after the official start of the new school term, with a student population of 152.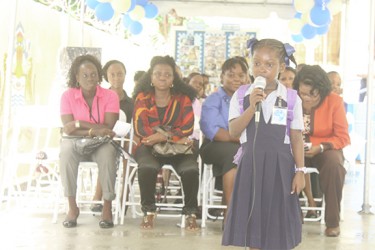 According to Minister Manickchand, the school is meeting international standards, both as regards the new building as well as the teaching standard. The school's eight teachers are all trained, however Manickchand urged them to continue learning. "A good teacher is one who continues to learn… continues to develop… herself through voluntary programmes," she said, while calling on the teachers to go above and beyond the call of duty by researching different methods and strategies to best educate young minds.
The commissioning of the school comes days after news of Guyana's success at this year's CSEC examinations; Guyana topped the region, sweeping five out of the eight prizes available. Manickchand noted the potential held by the children of the nursery school, despite the incomes of their families. "Whether you are a cleaner or a sweeper… your children here are capable of being those children that we celebrated here, two days ago, in the next 13 to 14 years," she said.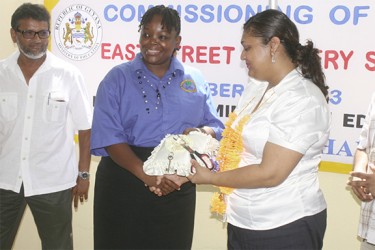 On display at the commissioning ceremony were the talents of the students. A former student,
Chadency Christmas, performed a calypso, in which she asserted, "nobody then can make me no fool, cause learning is better than gold."
The school was also presented with a number of fans and musical instruments by Roy Bassoo, of Bassoo and Sons Construction, who noted that music is an important tool in the moulding of young minds.
East Street Nursery is the fourth school to be commissioned this month by the Ministry of Education. Last week, a new wing for the Fort Wellington Secondary School was commissioned to provide more space for the students, while two new nursery schools were also opened at Beterverwagting and Diamond.
Around the Web