The National School of Theatre Arts and Drama last evening held its first convocation ceremony at the National Cultural Centre, which saw the graduation of 12 students on two levels: the certificate in Theatre Arts and, at the higher level, the Diploma in Theatre Arts and Drama.
At the beginning of the programme, there had been 26 enrolled students. However, 14 of these students failed, officially withdrew, or subsequently dropped out.
The school was officially launched in January and has since provided its students with several opportunities, including participation in this year's Carifesta XI held in August.
In his speech, Director of Studies Al Creighton encouraged the students to take the next step and further their education in drama and theatre. Once completed, the credits from the programme can be used to apply at the University of Guyana. "This is the first time that a formal, academic institution has been put in place to train persons for tertiary level formal certification in theatre arts and drama [in Guyana]," he said.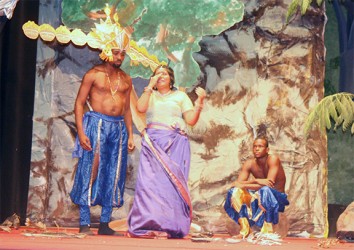 Creighton also pointed out several difficulties the school faces, including the need for properly trained persons to conduct classes and the lack of proper classrooms.
Since the school's opening, classes have been conducted at the National Cultural Centre (NCC). This arrangement often proves problematic due to the constant need for the building for shows.
Assistant Director of Culture Colonel Linden Ross promised to address some of the concerns raised by Creighton, including the provision of classrooms.
Despite a disappointing turnout, the enthusiasm of the graduating students was not diminished; they gave their best in their reenactment of Ramlila, a popular Indian play.
The best graduating student, Taneka Caldeira, praised all the lecturers for their dedication. Her appreciation of the lecturers was reiterated by her fellow students who cheered loudly for each lecturer, present and absent. "We [the students] are now products of great teachers," she said.
She also encouraged everyone to get involved in the arts regardless of age, since the arts do not discriminate.
The 2014 drama and theatre programme begins soon. Registration forms can be uplifted at the National Cultural Centre; tuition is free.
Around the Web