Over 1,200 families drew their house lot numbers for the housing scheme at Lust-en-Rust, Region Three, at the Ministry of Housing's sixth One Stop Shop for 2013 last Friday.
The Government information Agency (GINA) said in a report that the event at the West Demerara Secondary School, Pouderoyen, was held under the theme, "Live the Guyanese dream: home ownership made easier."
Beneficiaries received subsidised lots in three categories: $92,000, $200,000 and $300,000.
Minister of Housing and Water Irfaan Ali pointed out that the scheme has been heavily subsidised by the government, saying, "The total investment in this area amounted to $800M; the government would have invested close to $200,000 on behalf of every person in your family.
This is an overall subsidy of 75%, and this is what we did on your behalf, so that all of our people will be able to access this most important service."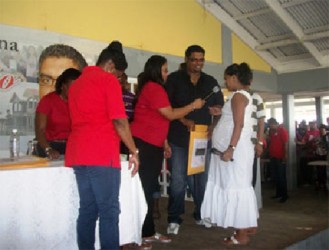 GINA said that the development of Lust-en-Rust had an infrastructure completion rate of 30 per cent. Overall, some 5,000 persons will benefit from land allocation in Lust-en-Rust.
The ministry has established partnerships with hardware stores, private developers, banks and construction companies to aid allottees in acquiring services at a reduced price. Representatives from the companies were also present at Friday's event, and Minister Ali commended them for coming on board to assist the Central Housing and Planning Authority's drive to provide a comprehensive solution for the housing needs and requirement of all segments of the society.
GINA said that the Minister also told the large gathering that the house lot allocation process was open and transparent and there was a clause in the Agreement of Sale which stated that, if any person is discovered to have misrepresented information on their application forms, any money paid will be forfeited and they will not be granted any house lot.
Region Three Chair-man, Julius Faerber also spoke at the event, saying that the government was trying its best to ensure all Guyanese are land and home owners.
He bemoaned the fact that some individuals received lots and did not maintain them, abandoning them with bushes taking over, leading to clogged drains, and flooding.  He urged the new land allottees to ensure that they maintain and clean their lands.
According to GINA, the sum of $2.5B has been invested in Region Three's housing sector so far for 2013.
It said that other work planned for Region Three included road upgrades for Zeelugt, Zeeburg and Tuschen, that will benefit 2,500 people at a cost of $600M. Additionally, the upgrade to the main access road to the Parfaite Harmonie Housing Scheme is scheduled to the cost of $400M. Other major investments for 2013 will continue ongoing works in Parfaite Harmonie Housing Scheme and development in Lust-en-Rust. The total investment in those areas will be $3B.
GINA said that in November, more than 1,000 lots will be distributed at the Guyana National Stadium for the Covent Garden Housing Scheme, East Bank Demerara.
Three other One Stop Shops will be held in December for De Willem and Zeeburg, West Coast Demerara; Providence Phase 3; and Farm Phase 3, East Bank Demerara.
Around the Web