Rice production levels so far this year have reached 514,000 tons, shattering last year's record of 422,000 tons, which until October 21st was the highest yield seen in Guyana's history, says Agriculture Minister Leslie Ramsammy.
The minister added that this number is approaching 522,000 tons, which is 100,000 tons more than was produced last year.
In a Government Infor-mation Agency (GINA) press release last evening, Ramsammy said that these productions levels are a big deal especially since the target for 2013 was just 500,000 tons. Furthermore, he said, about 6% or 7% of the cultivated land is yet to be harvested which is sure to see the production level climb higher.
Noting the high numbers, the minister said, "Should we be able to find the markets that would pay us the price we want for our rice we can reach 600,000 tons within the next year or maximum two years." Expectations that Guyana will see such production levels, he told GINA, are high.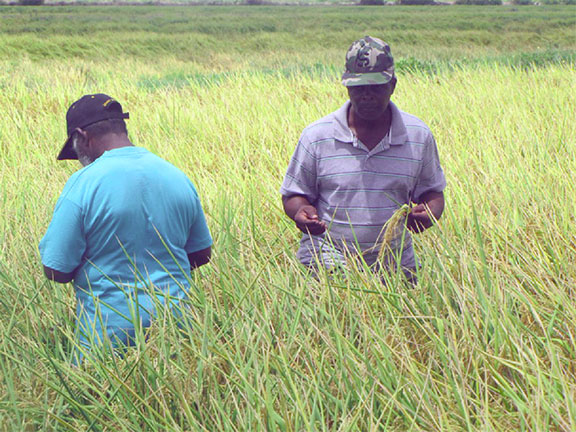 GINA quoted the minister as sharing that there were many who doubted that the production levels attained could have been reached, and he said that even those who were optimistic that the numbers could be attained, were of the opinion that such a number could not be seen until about 2020.
Ramsammy told GINA that the levels seen are not a result of increased acreage of cultivated rice, but as a result of higher yields. He said that the government once strove to surpass five tons per hectare, and said that with improved strategies farmers are consistently reaching and surpassing five tons per hectare. Such improvements include the six-point practice as well the introduction of new rice varieties.
But the achievement of this milestone has not quenched the government's ambitions as it relates to increasing rice production levels.
Ramsammy said "we believe that we can reach six tons per hectare. If we can do that, that is another 100,000 tons without adding more land, and that would mean that our cost of production would go right down and allow us to compete with other countries on the world market."
In 2011 Guyana produced a total of 402,000 tons of rice and in 2012 the country saw production levels reach 412,000 tons, 10,000 tons more than the target amount. Of that amount, 334,000 tons were exported.
Most of Guyana's rice exports are going to Venezuela under the PetroCaribe oil deal in a barter arrangement.
Around the Web