Acting Town Clerk Carol Sooba and the Mayor and City Councillors remain at an impasse over the reinstatement of waste management contractors Cevon's and Darthmouth Rentals, whose services she terminated earlier this month.
Sooba and councillors faced off during the council's statutory meeting on Monday, when a motion was passed by a majority vote for the two contracts to be handed back to Cevon's and Darthmouth even as the Town Clerk maintained that they do not have the authority to re-engage the two services.
"Mr. Mayor I am advising you to speak the truth. Under the law, you and the councillors are not the authority to enter into any contract or to continue any contract or cause any confusion and it is advisable that you find out the reason why a decision was taken to acquire the compactors, to put one at Bourda and one at Stabroek," Sooba said to Mayor Hamilton Green.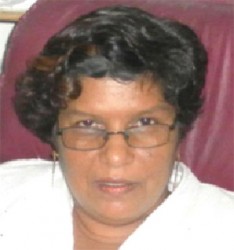 Sooba, who was absent at the commencement of the meeting, made a late appearance and refused to allow the Solid Waste Director Walter Narine to give recommendations on the way forward when asked to do so by Mayor Green, as she said that the request to have him speak was on short notice. After much back and forth, Narine was eventually allowed to give his recommendations and he stated that his department is not equipped to deal with the garbage crisis.
Sooba also defended her decision in terminating the contracts of the two services. "I applied the law, which I am empowered to do. The situation that caused Stabroek Market to be like that is that six or seven days after we could not have gotten Cevon's compactor after the contract ended and the city engineer put a hut there, and there were some problems. Those are things that we should examine whether the department or officers are competent to do the work that they were supposed to do," she said.
"What you should have done is to find out why the trucks are not operable and to find out why the brand new compactor is still in this compound and to also find out who are the people responsible for that," she added.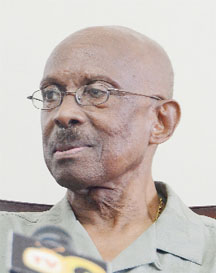 Several councillors argued that for the two contractors to be reinstated, there must be a document of some sort, but the Mayor said that this process will take weeks, and the city cannot afford to waste any more time.
"We have a crisis that cannot be postponed. I am proposing a continuum that existed the 15th of October; that is, to engage the optimum of our present relationship with contractors. What we are seeking is an immediate solution that is to reengage all of the stakeholders that were involved earlier this month," he said.
Sooba, however, interjected and asked Green to stop misleading the contractors since he has no authority to reengage them. "There is an abuse of the council's money. I am pleading with you to stop misleading the contractors that you have the authority to reengage and to continue to abuse the council money in excess of $45 million. Our building is falling apart and we can't be selfish. When you do these things you cause confusion," she argued.
At the meeting, Deputy Mayor Patricia Chase-Green also charged that there is a serious health crisis. "We have a serious health crisis right now. I don't care what happened in the past, I am here in the present and for the future. A decision has to be made about the immediate removal of the pile up of garbage at the Stabroek Market. You don't have any authority when you sit there, you sit there as a secretary. You can advise and have it recorded, but you don't have any authority to terminate any contracts," she explained.
Around the Web