A Corentyne man is still awaiting answers from the Guyana Defence Force (GDF) on compensation after one of the army's vehicles crashed into his yard and damaged his property.
According to Satya Bissoon, the September 25, 2013 accident caused roughly half a million dollars in damage at his Number 70 Village property.
When contacted, GDF Public Affairs Officer Major Loraine Garraway-Foster told Stabroek News that a Board of Inquiry (BOI) was ordered into the accident.
"The hierarchy of the force is currently studying the findings of the BOI report. I wish to assure you that the force will be making formal contact with Mr Bissoon as soon as the aforementioned is completed," Major Garraway-Foster said in a written response to a query made by this newspaper.
Bissoon, of Lot 41 Section 'B' Number 70 Village told Stabroek News that on the morning of the accident, at around 12:30 am, he was sleeping when he was awakened by an impact of the vehicle bearing registration GFB 1546 hitting his house. Upon investigating, he saw part of his eastern fence wrecked and two male employees of the GDF were laying in his yard injured.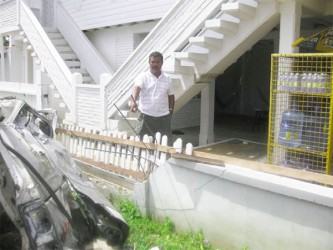 Bissoon noted that before the vehicle had crashed through his eastern concrete fence, after breaking a utility pole in two and slamming into an abandoned vehicle. He added that a concrete water tank that was a few feet away from his fence was broken and his outdoor stairway was cracked in the aftermath of the crash.  The water container had to be dismantled.
Asked if the army officers involved in the accident were under the influence of alcohol, Bissoon noted that from all indications they appeared to be drunk and the impact suggested that they were speeding.
According to Bissoon, investigators from the GDF had told him to get an estimate so that he can be compensated. He indicated that he had sent an estimate to the army but has yet to get any word about it.
On one occasion when Bissoon called one of the numbers an investigator had given him, the officer said he was awaiting results from the investigation and assured that he would hear from him. "…Two weeks now and we haven't heard from him," he said. "I called the numbers they give to me but it always goes unanswered. I can't get on to any of the numbers they give to me… they give me more than three numbers," he further said, while adding that he is upset in the manner of which the force is handling the matter.
"I don't know if they think that they would get away with this. It is over a month now and I have not heard any word from them.  To repair the damages are going to be expensive," a frustrated Bissoon said, while adding that he is prepared to go the extra mile for his compensation.
Around the Web