Water Street businessman Rondy Jagdeo was yesterday charged with the murder of close friend Kirk Davis, who was riddled to death with bullets in front of his home and left to die last month.
Jagdeo was not required to enter a plea to the capital offence when he stood before the Chief Magistrate, Priya Sewnarine-Beharry, at the Georgetown Magistrates' Court. He stood calmly in the prisoner's dock as the murder charge was read to him, while Davis's mother watched on from the back of the court.
Police prosecutor Bharat Mangru stated that Davis and Jagdeo were "close" friends prior to day of the murder. He said that a kiss had prompted Jagdeo to confront Davis. "[Davis] allegedly kissed the suspect's wife on her neck at Palm Court…," Mangru said, while adding that on September 3 Jagdeo drove up in front of Davis' house in Eccles in a silver car to inquire about the allegation.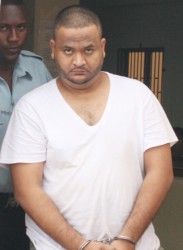 He said that it was when Davis entered the backseat of the car that the accused exited the driver's side of the car with "what appeared" to be a gun, opened the backseat door and shot Davis. Davis's body, Mangru said, was dumped out of the vehicle and Jagdeo drove away.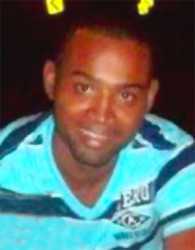 Mangru stated that on October 28, nearly two months after the murder, Jagdeo turned himself in to the police. He added that so far the police had six witnesses to testify against Jagdeo. He also asked the magistrate for three weeks for the police to complete their investigations.
However, attorney Marcel Bobb, who in association with Roger Yearwood and Mark Waldron represented Jagdeo, asked for a shorter date for the trial, stating that the prosecution had sufficient time to gather their information.
Despite the request, the magistrate remanded Jagdeo to prison until November 21.
Shortly after the murder last month, bikers and friends of Davis had held a candle-light vigil at the Square of the Revolution to pay tribute to his life and demand justice for his killing. That night Police Commissioner Leroy Brummel had named Jagdeo as the murder suspect and a wanted bulletin was subsequently issued for him.
An autopsy performed on Davis's body found that he was shot 16 times. Residents of the area had recalled seeing a silver-coloured Premio car pull up in front of Davis's house. According to reports, Davis had two friends at his home at the time but left them to sort the problem with Jagdeo. It was also reported that the suspect, a "chubby" man, shot Davis until there were no bullets left in the gun. Davis, wounded and bleeding, was thrown out of the vehicle and the killer fled in the car. Davis was then picked up from his bridge and rushed to the Georgetown Public Hospital, where he died.
Davis, 31, lived alone in his home at Eccles and sold bikes in his shop.
Around the Web