The Charity/Urasara NDC has said that residents are to blame for the overflow of garbage in the market area and their misuse of the garbage system currently in place is creating a health hazard.
Overseer of the NDC Samuel Sooklall said residents are supposed to utilise the garbage disposal system offered by Puran Brothers Disposal Company; instead they dump refuse into the bins provided for the market vendors.
"It is not healthy because of the flies. Persons dispose of dead animals and even though there is a disposal system, when the garbage is being collected the stench is far-reaching. There are a lot of snackettes around and this affects businesses," Ann Jupiter, a clothes vendor told Stabroek News.
Over the past two years garbage issues in the community have grown rapidly. In order to combat this one vendor suggested that "The persons in charge should come every day and pick up the garbage because they only come once a week."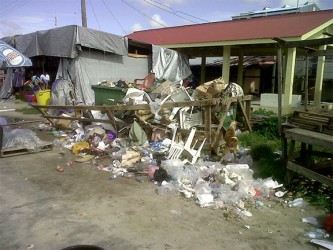 Regarding the sewerage system that is currently clogged, Sooklall said it was cleaned recently.
"The bottles that block the koker drift to the head causing the blockage. Only last week the koker front was cleaned by a vendor," he said.
The overseer also revealed that plans are in train to build a new sluice in 2014.
Around the Web