Twenty-three-year-old Rosinda Nicholson, who was deported from Trinidad with her autistic son, is appealing to the Trinidad and Tobago authorities to allow her back into the country so her son can continue the treatment he has been receiving from birth.
Nicholson and her almost three-year-old son Elijah Harris were sent packing from the 'Twin Island Republic' on Monday night, mere days after she had returned in a bid for her son to receive medical treatment. Admitting that she has been living illegally in the country for almost five years, the young mother said her son, who is Trinidadian by birth, is in need of medical treatment.
Speaking to the media yesterday at the Mark Benschop Foundation, which she visited for assistance, Nicholson described the horror of having to remain at the Mount Hope Hospital under guard as her sick son was being treated.
Last Friday, she and her son had returned to Trinidad—from which she had voluntarily removed on October 11th on the advice of immigration officials—but she was told she could not enter the country and that she was going to be returned to Guyana on the next available flight.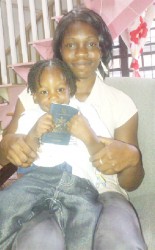 That flight was scheduled for Friday evening but while they were waiting to board Nicholson said her son collapsed and after treatment there it was recommended that he be transferred to a hospital.
At the Mount Hope hospital, Nicholson, originally from West Coast Berbice, said that she was initially denied a bath and a meal. She said as her son was being treated, she was being constantly guarded and her relatives were not allowed access.
"But is until like Saturday afternoon I just kind a bully me way and say I have to bathe and get something to eat and I tell me family bring me a change of clothes and underwear and so on…, " the woman said.
She suggested that her experience was being made more difficult after her plight was aired on the nightly news.
She said her son was released from the hospital on Monday afternoon and they were immediately taken to the airport and put on a flight and returned to Guyana. She also complained that one of her three bags—with some of her son's items–is missing and airport officials in Trinidad could shed no light on its whereabouts.
Nicholson recalled that she had entered Trinidad on a return ticket almost five years ago but remained on the island illegally. She has siblings, who are both citizens, and with whom she lived, and she was even employed right up to the time she gave birth to her son. However, five days after her son was born she realised that something was wrong with him. After it was eventually found that the child has a form of autism, Nicholson ensured that he received regular treatment and was also being seen by a physiotherapist. The child does not speak nor has he ever walked although he stands on his toes with assistance.
Nicholson disclosed that her son's father is a Trinidadian but she said they are no longer together and she does not "even know which part of Trinidad he is."
Because of the constant medical attention her son needs, Nicholson said she was advised that she needed some assistance and received a letter from his doctor to take to the immigration authorities in an effort to regularise her citizenship. That was in July. According to her, the authorities launched "some kinda investigation because every two weeks I had to check with them." In the end, she was advised that she would have to leave the country and return for her son's next doctor's appointment. She was told to apply for her son's passport and though she was initially told by officials that it would be three months before this could be done, the process was sped up with some intervention and on October 11th she voluntarily left the island.
Nicholson said she returned last Friday because her son had an appointment with his physiotherapist last Monday but even though she produced all his medical documents to the immigration officials at the airport, she was told she could not enter the country.
"Right now, I just want some justice for my child and for him to go back to Trinidad and continue his medical treatment," the visibly frustrated mother said.
She explained that her siblings would be willing to assist her and appealed to the Trinidadian government to allow her back on the island. Asked if the child could not be taken care of by a relative, Nicholson said she could not put that burden on her siblings since both of them work.
"He needs round-the-clock treatment. Everywhere I go, I have to take him. Sometimes I does have to ask God for patience and help," she said, while her son became agitated and started to cry as he tried to jump out of her hands.
Meanwhile, social activist Mark Benschop said he has since dispatched letters to Trinidad Health Minister Fuad Khan and Prime Minister Kamla Persad-Bissessar appealing to them to allow Nicholson and her son back into the country and complaining about the way they were treated. He said while he respects the country's laws, a sick child is involved and both his and his mother's human rights were infringed by the way they were treated by the immigration authorities. He said the child's illness should have been taken into consideration and he should have been treated with some degree of compassion.
Around the Web