A post-mortem examination performed on Fitzpatrick Blair revealed that he died from internal bleeding due to an accident, and the three men that were arrested in connection with his death have been released.
The findings of the post-mortem examination were confirmed by the newly widowed Lydia Blair after the examination was performed at the Georgetown Public Hospital Corporation by government pathologist Nehaul Singh.
According to a source close to the investigation, the three men had been released but the investigation is not completed.
Fitzpatrick Blair, 61, of Lot 9 Belfield Housing Scheme, Victoria, East Coast Demerara, succumbed to his injuries on Thursday evening after he allegedly fell off a tractor while working in his rice field.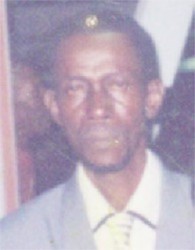 A cousin of Blair had said that she received three calls on the night Blair died. In the first phone call, she said, she was told by a man that a bus had run over Blair, while a second caller said that her cousin fell off a tractor. The third caller, yet another unknown man, said that he was hit by the tractor.
"I thought they were joking but then another one of them call and said that junior just fall of his tractor and he hurt," she said.
She said that Blair came home around 8:30pm with a few of the men and he was crying out about pains in his ribs. Hamilton said that the family suspected foul play since Blair and two of the men had issue concerning tenancy of the field. She said that her cousin had refused the men when they approached him to lease the land.
Around the Web