Public Works Minister Robeson Benn says that measures have been put in place to better manage the Supenaam Stelling in wake of the faults discovered after a recent collapse of a section under the weight of a heavy-duty truck.
Since the use of the stelling to facilitate trucks transporting rice to the capital was considered in the building of the stelling, it was believed that the structure should have been able to handle the weight of the truck, which was loaded with several tonnes of rice when the collapse occurred in September.
However, the structure has been beset by complications since it was constructed in 2010, and since then, the Ministry of Works and BK International, have traded blame over the problems.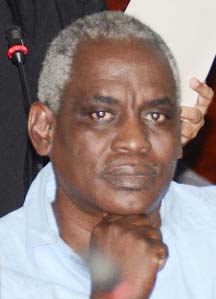 Speaking to Stabroek News in September, Brian Tiwari, Managing Director of BK, said that he received information that the government had been operating equipment on the stelling that is not meant to be operated there.
This, he said, would have contributed to the weakening of the structure and its eventual collapse. The collapsed section of the stelling was given a temporary patch job by one of the rice mill operators on the Essequibo Coast. However, a team of engineers from the Demerara Harbour Bridge, the Works Ministry, and the Transport and Harbours Department (T&HD) travelled to Essequibo in September to make more permanent repairs, and to carry out a review of the entire structure.
Yesterday Benn said that the assessment was done, and that some faults were discovered. While the Minister did not detail the specific nature of the faults found, he said that measures have been put in place to better manage the structure. He did not say what these measures were.
He did say that the evaluation which has been carried out will enable the authorities to bring the stelling to some level of soundness.
Around the Web