As part of its celebration of 30 years of service in Guyana, the Georgetown Central Rotary Club yesterday received a cheque for $8 million from Courts (Guyana) Inc to help fulfil its 'Sophia Promise.'
During an event to mark the milestone at the Georgetown Club, Presi-dent of the Georgetown Central Rotary Club Judy Semple-Joseph noted that for the past 30 years the club has been dedicated to social services throughout Guyana and in recent years has started to essentially sponsor communities.
She noted that the club will be focusing its efforts in the remainder of 2013 and 2014 to the 'Sophia Promise,' which is a two-year programme to tackle the prevention of non-communicable diseases and environmental sustainability. Semple-Joseph stated that Rotarians will be rehabilitating two recreational areas in the Sophia community while not losing sight of the educational component of the programme.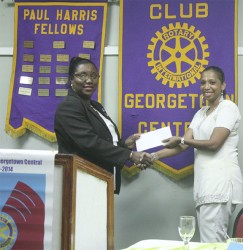 She said that for the past few years the club has been assisting students at the Sophia Primary School with a literacy programme aimed at preparing them for the National Grade Six Assessment. The top performers of the Sophia Primary School had passed through the literacy programme.
Representative of Courts Guyana Molly Hassan handed over the $8 million cheque to Semple-Joseph. She stated that corporate responsibility had to be taken seriously. She said Courts had adopted this Central Georgetown club and the continued partnership has been beneficial to all involved. Hassan said that when the club was ready to start rehabilitating the two parks, Courts employees would be at the forefront of volunteering.
Hassan noted that corporate sponsorship for charitable and goodwill services has far reaching benefits and promoting education and investing in childhood literacy was something Courts was proud to be a part of.
Meanwhile, representatives from the Guyana Power and Light Incorporated (GPL) also presented the club with a cheque for $300,000 for current projects. Semple-Joseph noted that the club has for many years collaborated with the health ministry to provide mobile dental services and that many GPL workers have benefited along with their children.
Around the Web