A post-mortem examination done yesterday on the remains of freed murder accused Dexter Marshall revealed that he died from a condition associated with the inflammation of the brain.
Hours after Marshall was laid to rest in the Cummings Lodge Ceme-tery according to Muslim rites, a relative said that based on what was explained to the family something "flew up in his brain" and killed him. A death certificate signed by government pathologist Dr. Nehaul Singh was handed to the family but only two of the three words for the cause of death were legible. They were "acute" and "encephalitis."
According to online medical articles, encepha-litis is an acute inflammation of the brain resulting either from a viral infection or when the body's own immune system mistakenly attacks brain tissue. Among the symptoms are headaches, confusion, fatigue, hallucinations, loss of consciousness and memory loss.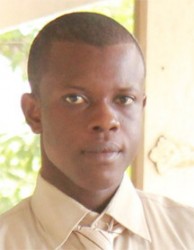 According to the online sources, encephalitis rarely results in death as its symptoms can be treated.
Marshall, 25, suddenly died on Tuesday night, eight months after a High Court jury found him not guilty of the 2010 murder of Charlestown resident Mark Caesar.
Just before he died, the man was exhibiting very strange behaviour. Relatives said that he broken through a zinc fence at the back of his Front Road, West Ruimveldt home and began crawling in a weed-infested trench. He had made it almost to the other side of the trench before persons reached him and took him back to his home. When they noticed he was unresponsive, relatives rushed him to the George-town Hospital where he was pronounced dead.
Around the Web