National Road Safety Month kicked off yesterday with a small ceremony at the junction of Avenue of the Republic and Brickdam, under the theme, 'Alcohol, Speed, and Inattentiveness Cause Accidents; Drive Wise and Save Lives.'
Drunk driving and speeding were reported as the major causes of road accidents in Guyana. Throughout the launch, organised by the Guyana National Road Safety Council (GNRSC), emphasis was placed on the importance of education and vigorous campaigning towards the reduction of road accidents in Guyana. According to Prime Minister Samuel Hinds, constant application of the law is needed to change the culture that pervades Guyana. He opined that though the laws are present, the application of these laws is what is truly necessary.
Up to the end of last month, there have been 79 accidents with 85 fatalities, including nine children. For 2012, there were reportedly 83 accidents with 90 fatalities, including seven children. Though the difference between the figures is minute, Hinds applauded the decline and hoped for a 50% decrease of road accidents by 2020.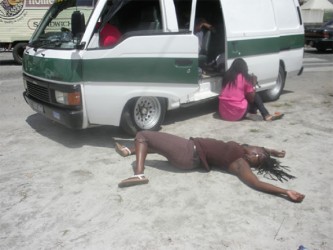 In his speech, Norman McLean, Chairman of the GNRSC, pointed out the correlation between the orderliness of the environment and road safety. Mentioning the huge issue with garbage in Guyana, he said that the same attitude to orderliness, cleanliness, and discipline is what will inform one's behaviour on the road.
Minister of Transport Robeson Benn outlined several plans that will hopefully see a decrease in the number of road accidents. He made mention of the recent installations of highway lights, barriers, and traffic lights and promised the rebuilding of the West Coast and East Bank roads sometime next year, along with the rebuilding of several urban roads.   A simulation was also done by the Red Cross Society and the GNRSC to educate patrons, especially the students in attendance, on the 'DOs and DON'Ts' of accidents.
Around the Web