A Guyana Defence Force (GDF) died last evening, succumbing to injuries he sustained in a vehicular accident along Mandela Avenue.
Lieutenant, Ronald Gonsalves, 35, of Mackenzie, Linden succumbed around 6pm at the Georgetown Public Hospital (GPH), where he and three other soldiers who were also injured in the accident were taken for treatment.
Sources say that Lieutenants Gonsalves, John Flores, Antonio Eastman and Rickford Warden left Timehri and were heading to Camp Ayanganna in Georgetown, when Eastman, driver of their vehicle, allegedly attempted to overtake another vehicle but he lost control and ran into a lantern pole.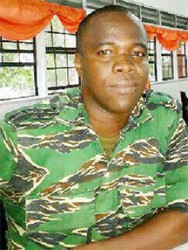 It was also stated by eyewitnesses that Eastman at the time of the accident appeared to have not been wearing his seat belt.
As a result of the accident, Eastman, Flores and Gonsalves were admitted as patients at the GPH, but Gonsalves, who was in a critical condition, eventually succumbed.
Eastman and Flores are said to be in stable conditions.
Speaking with Stabroek News, Gonsalves' visibly distraught wife said that she was at work when she received a phone call from a friend around 2pm informing her of an accident which involved soldiers.
"I was in work when I get this call, and when I hear that is soldiers I knew it was him. We were supposed to grow old together. Up to this morning he tell me that," Gonsalves' wife said.
She added that Gonsalves had been a part of the GDF for the past nine years and that they have been married for seven years.
Gonsalves is survived by his wife and two children.
Around the Web