Security guard Shanta Devi Persaud, who was stabbed on October 19 near her Sophia home, succumbed on Thursday last to injuries from the multiple stab wounds she received allegedly at the hands of her ex partner.
An autopsy performed yesterday gave the cause of death as multiple internal injuries due to stab wounds.
Persaud, 36, also called 'Nadia' had told Stabroek News the day after the stabbing that her former partner stabbed her multiple times and left her for dead.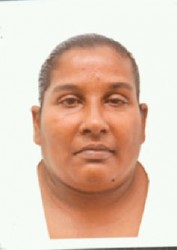 "He don't want to take lef, man. He chop me last week and I tell he this time it over and he wait for me and when I going home he start telling me that the police who take the charge when I get chop %$#* me and he gon kill me and pull out a knife and start firing juks," Chanderpaul recounted.
She pointed to several wounds on her body, including a gash to her face, a wound to her right breast and others to her abdomen and her back.
The mother of seven was being prepped for another surgery when she died. Doctors at the Georgetown Public Hospital had tried desperately, giving her emergency treatment but she had first refused to sign a surgery consent form. Last Sunday, she left her hospital bed and went home only to be taken back on Monday by the father of six of her children, Clarence DeFlorimonte, because he said he understood the severity of her injuries. "She get away and come home Sunday, saying she felt okay but I told her you ain't gon come here and dead on me. So, Monday morning we took her right back," he said.
Persaud told Stabroek News on Thursday that she did not believe she needed the surgery as all her wounds were sutured and she felt fine. Hours after, while being treated, she passed away.
She had told of how she began a relationship with her former partner four years ago and after a short while the two began living together at her Sophia home.
It was not long into the relationship that the man started exhibiting violent tendencies, which she admitted were red flags but she ignored them because she loved him. However, his jealousy was unbearable and this coupled with violence towards her children led them to separate. "He just so jealous, man. Everybody he see me with, he jealous. Me ain't know what wrong with him," she said.
Chanderpaul said her "last straw" came on October 12, when in a fit of jealousy her former partner wielded a cutlass and chopped her on her left arm.
She said she told him it was over but she suspected that he would not accept it. "I tell he it over and I did mean that he will go to jail but I suspect that he wanted to do me something bad," she said.
She said she stayed with the man because his financial contribution supplemented her meagre earnings. Nonetheless, she had said she believed that if she did not leave she would have been killed.
For this reason, Chanderpaul called on police to charge the man, although she was in hospital. She said she was determined to recover to testify against him but felt that in addition to prison time he needed counselling as his jealousy and anger problems were "not normal."
DeFlorimonte said the abuse his former wife endured since meeting her partner was "unbelievable", but he stayed clear as Persaud never went ahead with plans to give evidence against the man. "She pick up with him right here; she lived there [pointing to a concrete structure in his yard] and from the first day he would beat her up… After all, she is the mother of my children but she don't listen and every time she is beg back for the man," he said.
He recalled an incident on Christmas Day last year when the man injured his son, but Persaud gave evidence to the police against her offspring. "He timed when we leave and drag she to the street and start to beat she… My son ran back and I came and see he beating away at the boy and I had to intervene," DeFlorimonte stressed.
"Can you believe that when that story went to the station this woman told them that her son run the man with an icepick, knowing well nothing of the sort…? Even the police had to tell we well if that is your mother then what? From then I frighten to put mehself in she and he story," he added.
Persaud's attacker remains at large and yesterday walked the streets of Sophia freely. During the interview with this newspaper he called the mobile phone of the woman's 12-year-old daughter inquiring if she had indeed died. When a call was returned to the number, a male answered saying that "a man" asked him for a call on the number and he was not the alleged attacker.
Police from the Sparendaam Police Station responded to a call that the man was prowling the neighbourhood and the children were afraid. However, the suspect was not found.
Persaud had obtained two restraining orders against the man but she had broken them, as soon after the court orders were given she moved out of her home and into his.
One of her children believes her attacker has anger management issues coupled with a drug addiction. "When she was here she had washing machine, microwave, blender, look every lil thing to make her comfortable and since [she was with him] in no time she sell out everything," the family member said.
Reflecting on Persaud's life, DeFlorimonte said she was always a happy person but was very "stubborn and hard ears." His memories of her are of a person who enjoyed partying and being with her children.
She will be laid to rest on Tuesday.
Around the Web