A richer democracy can be achieved by creating a stronger parliament through constitutional reform, Trinidad's Speaker of the House Wade Mark says.
Mark made the submission On Thursday morning during a press conference where he, Guyana's Speaker Raphael Trotman and Barbadian Speaker Michael Carrington engaged members of the press to share the topics discussed during the recently concluded 16th Biennial Regional Conference of Presiding Officers and Clerks of the Caribbean, the Americas and the Atlantic Region of the Commonwealth Parliamentary Association (CPA).
His comments came just two days after Trotman told Stabroek News that he is intent on taking Guyana's legislature out of the control of the executive.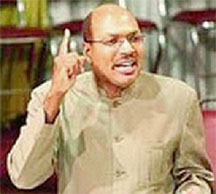 Mark told reporters that a stronger parliament in the respective countries party to the CPA would lead to a more enriched democracy. Such an endeavor though, he noted, "would require sweeping and comprehensive parliamentary reform on the one hand and on the other hand, constitutional reform."
Because Trinidad and Tobago has recognised the benefits to make the necessary change in this regard, Mark said, it is moving towards a comprehensive revision of Standing Orders (SOs) "so that there can be greater accountability, transparency, greater openness and greater accessibility."
He added that they are also seeking to establish a "Parliamentary Service Commission" that will be responsible for the legislature's financial independence. This initiative is an effort to cut the legislature's dependence on the executive, which will enable them to control their budget and spending.
Trinidad's legislature also wants to move towards administrative autonomy, Mark explained. This will enable the Trinidad Parliament to "employ (its) own professionals and pay them accordingly." If this autonomy is achieved yet another aspect of the Parliament's operations will be taken out of the hands of the executive.
Achieving such feats, Mark told reporters, will require major constitutional changes, since it is the constitution that determines the system in which all political actors operate. But, he said that unless the system is altered through constitutional reform, problems will continue to happen. He said, however, that once such reform is achieved, Parliaments will have greater levels of transparency, accountability and openness, thereby making them directly accountable to the people they are mandated to serve and in a better position to work towards fulfilling this mandate.
It is even possible that these changes can bring about a changed perception of Members of Parliament by those they represent. Carrington told reporters that many members of the public view most Parliamentarians as "snakes" and otherwise in a bad light, but Mark is optimistic that a change in the way they execute their responsibilities will initiate a process which changes the perception of the legislature among members of the public.
Around the Web