As part of its programme of enhancing Information Technology in the Education System, Food for the Poor (Guyana) Incorporated donated a computer kit to the Gibson Primary School located at Lancaster Village, East Coast Demerara, on Thursday 24th October, 2013.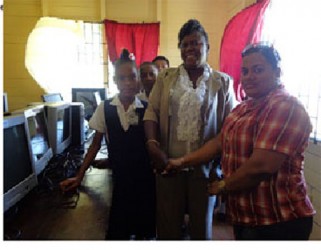 A release from FFP said that the Headmistress of the school, Michelle Barton, complimented FFP for the work the organisation is doing to improve information technology in schools and added that she was very grateful for the donation of the kit. She also adverted to the School Feeding Programme conducted under the stewardship of Patricia Sam, Chairman of the Ann's Grove Committee, and further stated that school attendance had improved tremendously because of it.
Committees Manager of FFP, Natasha Baburam, advised the students to care the equipment. equipment wisely.
Around the Web