Murshid (leader) of the Guyana Islamic Trust (GIT) Haseeb Yusuf and two foreign nationals were severely injured early yesterday morning when the car they were travelling in collided with a truck at Skeldon, Corriverton in Berbice.
Yusuf, 52, of Nandy Park, East Bank Demerara, who was the owner of the Toyota Spacio car PPP 1445, sustained facial and possible head injuries. Fareed Abdus Sami, 17, of Jamaica and Zaahir Ibn Waqar, 20, of Pennsylvania, USA, two students of the Guyana Islamic Institute (GII) at Zeeburg, West Coast Demerara, who were also in the car, suffered a broken hip and compound leg fracture, respectively.
The accident occurred at around 4:30 am.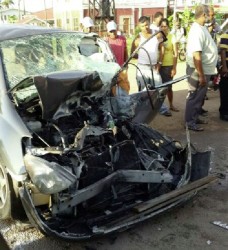 Yusuf, Sami and Waqar had travelled to Line Path, Skeldon the previous day to make preparations for a GIT convention that is being held today.
They were on their way to the Skeldon Mosque for the Fajr (early morning) prayer when tragedy struck. Reports are that the truck that is attached to the Skeldon Sugar Estate turned suddenly in front of the car.
They were rushed to the Skeldon Hospital, where they were treated and immediately referred to the New Amsterdam Hospital (NAH), from where they were later transferred to the Georgetown Public Hospital (GPH).
While an MRI scan was done to determine the extent of Yusuf's injuries, Sami underwent emergency surgery at the GPH. An official from the NAH told Stabroek News that Waqar, who was transferred separately, had to be "stabilised because the bone left the skin and was projecting outside" his shin.
The official said the bone had to be fixed before Waqar was sent to the GPH for monitoring.
He had been pinned in the car and it had taken some time for him to be freed from the crushed vehicle.
The driver of the truck was also treated for minor cuts and sent away. He also gave statements to the police.
Wazir Baksh, former Murshid and close friend of Yusuf, told this newspaper that the car apparently went under the truck. He called on persons to make special prayers for the speedy recovery of the trio.
Around the Web