A large plot of land at Leonora remains unoccupied and undeveloped following its purchase from the Guyana Sugar Corporation (GuySuCo) by Guyanese-born real estate fraudster Edul Ahmad under the name of one of his companies.
Documents from the High Court seen by this newspaper confirmed that Edul Ahmad and Shareef Ahmad are the registered owners of South American Woods Inc, the same entity that purchased land at Block 'R' Leonora in 2011.
According to an information package distributed by the National Industrial and Commercial Invest-ments Limited (NICIL), a plot of land located at Block 'R' Leonora, West Coast Demerara, was sold to South American Woods Inc. for the sum of $80 million in February 2011.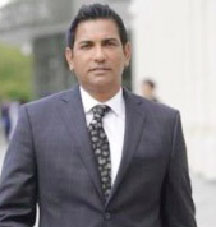 The property used to be a part of the decrepit GuySuCo estate at Leonora. According to Executive Director of NICIL Winston Brassington, NICIL only acted as agent for GuySuCo.
He said that NICIL advertised the property for sale but when the transaction fructified, GuySuCo did all of the signing of documents required and collected all of the money.
A check at the High Court Registry showed that South American Woods Inc is registered as a business in Guyana with its address being Lot 98 Sheriff Street, Campbellville Georgetown and its owners being Shareef Ahmad and Edul Ahmad.
The business was registered on February 1, 2010.
Ahmad pleaded guilty to mortgage fraud charges in the United States in October last year and faces over 10 years in jail and US$15 million in restitution and fines.
Brassington said that this transaction and others like it are unlike NICIL's lease of state lands to private investors.
He said that in those cases the investors are bound by certain commitments to ensure growth of industry and creation of jobs. However, he said that on the sale of GuySuCo lands, the buyers are not bound by such commitments and are free to invest as they see fit.
This newspaper visited the land at Leonora and saw the terrain in an overgrown state with no visible signs of any investment or development in progress.
According to NICIL, on May 17, 2002, NICIL and the Privatisation Unit entered into a contract with GuySuCo to act as their agent in the disposal of lands in order to generate partial financing for the GuySuCo Skeldon Project.
"To date, some 25 properties have been publicly offered and agreements have been executed with [a number of purchasers]," NICIL said.
Some of the other GuySuCo lands sold in the Leonora area included a plot at 31 (a) Sea Spray, Leonora, which was sold to Dr Surendra Persaud at a selling price of $7.5 million and lot 30 (b) Sea Spray, Leonora, which was sold to Minister of Housing and Water Irfaan Ali at a selling price of $7.1 million.
Lot 200 – 201 Camp Street was sold to Clico Life and General Insurance Company in December 2003 for the sum of US$520,000 ($102 million).
Sub-lot 'ZZ' of Plantation Ogle was sold to the Guyana Telephone and Telegraph Company Limited (GT&T) in October 2008 for the sum of $25 million.
Classic Resources Inc purchased GuySuCo land from NICIL at Area 'H' Farm, East Bank Demerara and paid $60 million. Tract '7' of Q1 Providence was sold to Mines Services Limited for the sum of $36 million in January 2004. Tracts '1-6' of Q1 Providence went to Classic Resources Inc in May 2004 for the sum of $90 million.
Guyana Beverages Company bought Guy-SuCo land situated at 3 'A' Diamond at a price of $45 million in August 2004. In July 2005, the same company purchased a tract of land at 4 'A' Diamond at a price of $55 million.
Around the Web