By Jeanna Pearson
The reduction in lower limb amputation for diabetic patients has climbed from 43% to 50% in the last five years, according to Dr Kumar Sukhraj of the Diabetic Foot Clinic.
The decline has showed that the clinic, which opened to the public at the Georgetown Public Hospital Corporation in 2008, has managed to reduce the percentage of diabetic foot amputations in its patients.
"The centre is under the spotlight because we would have managed to reduce the rate of amputation by 50%," Sukhraj said in an interview with Stabroek News. He noted that the clinic's success is an upshot of adequate staffing, ample resources and knowledge in foot care.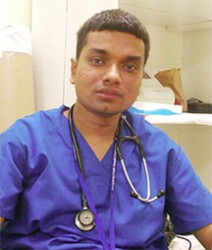 The only challenge, he said, is treating uncooperative patients , while complaining that some patients would never return to the clinic to be treated and if they do it would usually be too late to avoid amputation.
"Some of them don't take precautions with their diet—they eat anything," he said, while noting that the non-adherent patients don't follow instructions and don't take their medication. "They are the ones who come to the clinic with uncontrolled infections and they are the ones who come with ulcers that will not heal and they are the ones who need amputation."
When asked how many patients were saved from lower limb amputation in the clinic, Sukhraj said, "Patients who come to our clinic, who follow our instructions are patients who save their limbs."
Diabetes is a chronic blood condition that has grown out of proportion in the region because people disregard their health, Sukhraj stated, while emphasising that it is a condition that should not be treated lightly.
He explained that there are two main precursors for amputation: neuropathy [the damage to nerves] and peripheral vascular disease [a condition where blood vessels are damaged]. "These are two disease conditions that you don't take lightly; and if you don't take the right precautions then it will lead to amputation," he stated.
He said studies indicate that almost all lower limb amputations start with a foot ulcer and most diabetic patients suffer from peripheral vascular diseases. He explained that in such cases, the arteries have narrowed, reducing blood flow. "Sometimes the arteries in the foot would become so small that flow of blood is reduced," he said, explaining that this causes the patient to become insensitive in the lower limb, thereby increasing the chances of an ulcer growing undetected and resulting in an inevitable amputation.
According to Sukhraj, 90% of lower limb amputations are diabetes-related. Persons with diabetes, he said, stand the a risk of developing foot ulcers and a higher percentage of recurrence—the stage where the ulcer once treated and healed would resurface.
He noted that the clinic treats over 40 patients daily, which also includes in-patients from the hospital. "The first thing we do is treat the cause, which includes controlling blood sugar, controlling the cholesterol level, education on diet and making sure that the patients are adhering to specific diet plans and exercise," he said, while emphasising that diabetic patients are barred from smoking because it increases the risk of peripheral vascular diseases which in turn reduces oxygen flow to the lower limb and in the end thwarts healing.   "The foot wouldn't be able to get a supply of nutrients—oxygen and blood—therefore we deal with the root of the problem first," he added, while noting that they had adopted an integrated approach to treat diabetic patients to avoid amputation. "At the centre, here, we deal with the patient as a whole, not just a hole in the patient," he said, while adding that amputation is the last option in treatment.
Sukhraj said that the first step is to regulate the diabetes and then screen the patient for ulcers and other infections. Sukhraj pointed out that if infection is detected then they would have to determine whether it is deep or superficial. Wound care is administered on the patient and they are then instructed on their new diet and exercise regimen. In cases where amputation was unavoidable, the patient would be sent for rehabilitation so as to cope with the drastic alteration.
Patients are treated on a social and psychological level, Sukhraj proclaimed. "This [is] where [we] find out what is bothering the patient, what they need to know about their condition," he said and he noted that some of these patients become victims of depression. "They are depressed… there are patients that are having pains."
He added that it is even more challenging when diabetic patients are reduced to tears and depression because they are made to feel like outcasts by their families. He said some patients cry out that they are treated with scorn and repulsion because of the stench of their wounds, while others who are poor cannot get access to the right food.
"The centre takes into consideration the biological, psychological and social and cultural aspect of the patient. When we do that the patient is satisfied and can see things differently and they are able to manage their conditions differently," he noted.
He said that was the reason why the clinic was opened for operation. "There has been success and there will be more success," he added.
He also said that education plays a major role in teaching patients to care for their feet. "There are minor things that people miss, things like fungal infection, deformity in the joints, and loss of sensation in the foot. Therefore, we teach patients what to do to take care of their foot," he noted.
Around the Web