The families of the three Albouystown men, who died after being shot by police on South Road, are awaiting updates from investigators this week to determine their next course of action.
Cousins Jermaine Canterbury, 21, and Mark Anthony Joseph, called "Two Grand", 19, and Romario Gouveia, 19, all residents of Albouystown, were shot on October 12 during what police said was a shootout near the K&VC Hotel. The cousins died soon after the shooting while Gouveia, who had a gunshot wound to the jaw, died suddenly two days later.
Police have since said that the Criminal Investigations Department (CID) and the Office of Professional Responsibility (OPR) have launched investigations.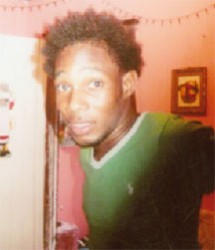 Canterbury's mother Kara Cox told Stabroek News yesterday at her Hogg Street home that it was based on advice from the Office of the Leader of the Opposition David Granger that she visited Police Headquarters, Eve Leary, where a senior police official asked her to come back in the next two weeks.
"Suh, we supposed to go back this week to hear what he gat to tell we," she said, while adding that the families of the dead men ought not to be running behind the police for updates but rather they should be told something about how the investigation is going. "I expect to hear something because they kill he cruel," she added.
Several weeks after burying the youngest of her children, Cox said that it has been rough for her. Her voice still laced with grief, she made it clear that she wants justice and will be going to the police as often as is necessary. "I gon follow up this story. I ain't gon let it ride, it gotta go far. I can't let meh son life go like this," she said, while noting that she had to use the money she had set aside to buy land to bury her son.
There have been conflicting accounts of the shooting.
Police had said in a press release that the three young men had moments before they were shot exited a car near the K&VC hotel, where they were headed to allegedly commit an armed robbery. Police said ranks had received information that an occupant of the hotel was the target of an impending robbery and they had been staking out the building. They said they challenged the three men as they were making their way to hotel and the men opened fire, forcing them to return fire.
Two guns and a wig were recovered following the shooting, according to police, who said they have been unable to locate the vehicle the men used to travel to the location because it used fake licence plates.
Witnesses, however, said that the men were put to lie on the roadway in front of the hotel and then shot.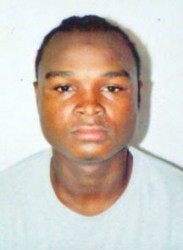 Cox told Stabroek News that she too has been given an account of the shooting that vastly differs from what the police are claiming. She was told that after being confronted by the police ranks, her son ran into the K&VC Hotel. She was also told that police ran in after him and pulled him out. Once outside, she was told that her son raised his hands to surrender but was shot.
At the post-mortem examination, she said her daughter counted 12 bullet wounds, many of which were concentrated on Canterbury's legs. The woman showed photographs of her son's body and numerous gunshots injuries were visible. There was one near the right side of his chest and this may have been the fatal shot.
Cox was adamant that the three young men were not shooting at the police as is being alleged. "No, no, them boys ain't had no gun," she said. She added that based on what she was told at the post-mortem examination, their hands were not even swabbed for gunshot residue to determine whether they had indeed fired a gun.
The mother admitted that once her son was in the Camp Street jail "ova a lil problem…a robbery and he get free" but she added that he had subsequently gone into the interior to work and only returned home days before the shooting because he became ill with malaria.
Asked what the three men might have been doing in the South Road area at the time of the shooting, Cox explained that Gouveia had picked up the cousins. She said that based on what she was told, it was sometime after that the police began to track them. "Wha I saying is we wouldn't ah mind if they din ketch them doing something or in the act and shoot them in deh foot or beat them… Look how they kill them cruel and Mario ain't get no particular bullet," she said.
Repeated warnings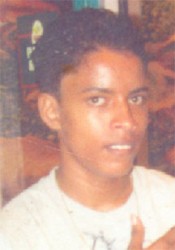 Meanwhile, Gouveia's father, Donald Gouveia told this newspaper at his James Street, Albouystown home that he is surprised that he has heard nothing more from the police He said that he had learnt from Canterbury's relatives that police asked for two weeks.
The elder Gouveia said that he is awaiting feedback from them and from there he will decide would he would do.
Gouveia had recently voiced concern about conflicting descriptions of the results of the autopsy conducted on his son's body. The doctor had told him that the cause of the death was inconclusive, while the police said that he died as a result of brain haemorrhage due to blunt trauma to the head.
Asked about this yesterday, the man said that the conflicting results still need to be addressed. He said that the doctor had indicated to him that because the cause of death could not be determined, samples of his son's organs were taken for further testing. He said that the samples were probably taken to ascertain if he had been poisoned.
He said too that he got no indication that his son's hands were ever tested for gunpowder residue. "They know that nobody ain't shoot at them so they ain't got no time to check fuh nothing," he said.
Though weeks have passed since the shooting, he said he is still "feeling it," especially when he thinks about the way that his son died.
He said that he was told by "eye see witnesses" that police held onto his son, beat him up and then placed him on the ground before shooting him. He said that based on the circumstances surrounding how his son was shot, it appears as though the police were after him. He added that based on the wounds the others sustained, it was clear that the police intended to kill them.
Gouveia said that his family had retained lawyer and he too is awaiting the outcome of the meeting between police and Canterbury's relatives. He was not optimistic about justice, given what he has read about "other cases." "But I would try my best to see what could happen. Somehow I would try to pursue it," he added.
A relative of Joseph told Stabroek News that the teen was repeatedly told to stay home and to keep away from bad company. The relative opined that it was his failure to heed these warnings that resulted in his death. "I always warned him to stay home…but he choose friends," said the relative, who spoke on condition of anonymity.
Like Cox and Gouveia, the relative said that Joseph's family has heard nothing from the police and did not think that any information was forthcoming. Based on what the relative told this newspaper, they have lost all hope that they will get justice. "It is the almighty that would give us justice," the relative said.
The relative said they were told that after one of the men was shot, Joseph ran into the hotel hollering for help but was pursued by ranks, who dragged him back outside and shot him four times.
According to the relative, a lawyer they consulted with viewed the body and said that the four gunshots were close range.
Joseph had two other siblings, boys ages 10 and 17 years, who are not taking his death well. The relative said that the teen has since removed from the home.
Around the Web