Squibs and other pyrotechnics are still illegal in Guyana yet on the nights of and leading up to Diwali the air was filled the sounds of exploding firecrackers and other such devices.
A drive around the capital on Diwali night revealed homes beautifully lit with diyas and/or fairy lights, but the sounds of exploding pyrotechnics, including Colour Flowers, Thunder Kings and Whistling Thunders were also very prominent.
Though officials have been fighting to stamp out the sale and use of these explosives for several years, the trade in and use of these devices persist.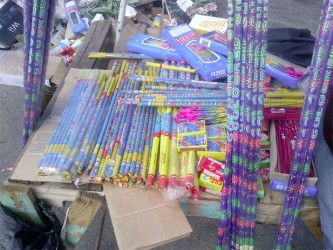 Stabroek News engaged several vendors who are involved in the sale of the illegal items.
One 23-year-old man, who said he has been selling squibs his entire life said that he has been arrested several times for selling squibs and other firecrackers. The man, who operates a stall near Bourda Market, said that despite the authorities' efforts, the trade continues to thrive as there are many "bigger heads" who facilitate shipment of the goods from Suriname, Venezuela and even Brazil.
A look at the young man's stall revealed no signs of explosives. When asked if he was out, he said "not because you don't see it mean we don't have it".
Pointing to flares he had displayed, he said those items were not banned and so importers were able to clear them at custom ports. But, even the explosives which are banned and illegal are still cleared, "if you know how to do it," he told Stabroek News.
Asked why he continues to sell the items although he has been to prison for doing so several times, he said, "I gaffuh make money, and me ain't goin and rob nobody."
Another man, who operates in the vicinity of the Stabroek Market, explained that the use of firecrackers and other such pyrotechnics have always been part of Guyana's culture.
As such, he explained, there will always be a strong demand, "and once the people want it somebody gon supply it. If that somebody ain't me, somebody else gonna do it".
He said that last year many vendors decided to decrease their stock which quickly sold out. However, although the stock ran out, many people were still demanding squibs and so vendors were sent "on a mad dash" looking to replenish their stock.
Another vendor, who appeared to be in her thirties and said she was pregnant with her ninth child, stated that she had to do what she could to provide for them. "Me children them telling me they hungry and I don't have nothing to give them to eat so…," she said. Even as the woman talked to this newspaper, her young son, a toddler, repeatedly told her that he was hungry.
It should be noted that the prominent sale and use of pyrotechnics should not be taken to mean that law enforcement officers are not doing their jobs. Both men who spoke to this newspaper said that raids and confiscations are a regular feature around Diwali, Christmas and again around New Year's Eve.
Around the Web