The Sea and River Defence Division hopes that within the coming months the Caribbean Development Bank (CDB) will approve a US$25 million loan to assist with various proposed projects under the Public Works Ministry.
Chief River and Sea Defence Officer Geoffrey Vaughn told Stabroek News that currently the Public Works Ministry is at the stages of developing and finalising various projects that will be focused from East Bank Berbice to Essequibo.
Vaughn stated that there was no word yet if this loan would be approved but in the preliminary stages the division has already sent choices on proposed projects to the CDB for review.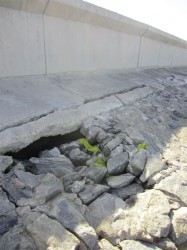 He clarified that further work will be done on a priority basis, while noting that under an agreement with the European Union (EU) Region Four work has been completed. Vaughn did say that all work will be up for review and that while work had been completed that did not mean that during the review stages more work would not be commissioned.
However, he said that for now work done along the Region Four coastline had proven to be highly successful.
Vaughn did note that the EU has had issues in the past with sea defence development. EU Ambas-sador Robert Kopecky had called for a speeding up of sea defence works when he first came to Guyana back in 2011. Kopecky had visited Kitty, Coldingen, Melanie Damishana, Uitvlugt, Aurora and Zeelandia and reported that he was not pleased with how the work had been proceeding.
The EU had stated that most of the locations were in an acceptable state and would lead to provisional acceptance. However the EU did also warn in 2011 that if work did not progress at a substantial rate Guyana could face repercussions such as enforcement of liquidated damages. Kopecky had noted that there were issues with the Public Works Ministry's ability to manage such a large portfolio. This was also addressed by the ministry which stated that there were problems in relation to engineering capacity.
Stabroek News was told that although engineers were employed by the ministry, they lacked some knowledge to manage many of the large scale projects that were undertaken by BK International.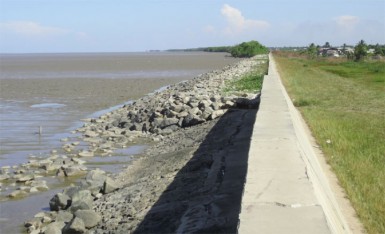 Vaughn told Stabroek News during a recent phone interview that since Kopecky first aired his views, the ministry did in fact speed up works along to coastline and the EU has been actively overlooking how various projects, such as riprapping, grouted boulders, wall extensions, groyne rehabilitation and construction were progressing in Region Four. He said the EU seemed pleased with the efforts and as a result Region Four works have been completed and moving forward the high priority areas would be the Essequibo Islands.
Stabroek News recently visited Kitty, Coldingen, Melanie Damishana and Uitvlugt, where residents seemed pleased with the work that was done. However, many sections of the grouted boulder were broken away from Coldingen to Section C Enterprise. In response, Vaughn stated that "Region Four is done. Those areas are not as high threat. When you go in, you realise that the mud shore is building back…at present we are… assessing the coast and in terms of priority, they are not at the highest." He added that the division was constantly in the area collecting data and that projects were cyclical in nature. "When we go in and we see what is happening, lots of that was rehabilitation work and it may need more rehabilitation or something completely new…we will determine as we go along. But right now the priority is the islands…," he noted.
Vaughn said the ministry would be focusing on establishing riprap along the West Coast Demerara, specifically in Groenveldt, Orangestein and Bushy Park, East Bank Essequibo. He also stated that the division was collecting data along the entire coastline and that priority would be re-established based on what works needed to be completely gutted and redone and how rehabilitation work would carry over in the coming months.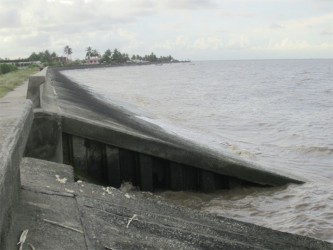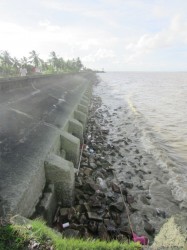 Around the Web