President Donald Ramotar told beneficiaries of new houses in Region Nine to expect more enhancement projects as the economy improves and expressed his delight that the Second Low Income Settlement (LIS-2) programme is moving apace allowing persons to own new or rehabilitated homes.
Thirty-five persons recently benefited from new or upgraded homes under the Ministry of Housing's LIS-2 programme, a report from the Government Information Agency (GINA) said.
"Hopefully as our economy becomes bigger, and our capacity grows, and we can have greater amounts of revenues flowing into our treasury,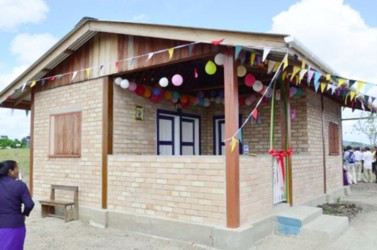 we would be able to do much more to satisfy the basic needs of our people…this is a great beginning, and I am sure that it will expand from village to village till all our people have a better quality of life," the president said at a presentation ceremony held on Friday to hand over houses at Kwatamang, North Rupununi. Residents from Central Annai, Massara, Katoka and Apoteri also received their keys.
The village council had identified vulnerable persons in their communities to benefit from the housing programme. The president said he could relate to the recipients dream of home ownership as he himself hailed from the hinterland village Caria Caria.
"So I know the housing conditions are not always good and therefore, one of the main things in having an improved quality of life is having better housing for people, and for that I would like to congratulate all of you and particularly the ministry that has done, a lot of work in getting all of these done," he said. Ramotar also said that government was focused on education as a means of moving people out of poverty, and he was pleased to see that hinterland residents were capitalising on the opportunities presented to them.
"I have seen for myself, having the opportunity to travel to the parts of the hinterland, the transformation that is taking place, and that gives me immense joy in many ways to see our people grasp at education, grasping at opportunity and developing themselves," he said. The head of state also mentioned some planned initiatives to further develop the hinterland, mostly in the tourism sector.
$200M housing project
The Hinterland Housing Pilot is being implemented by the Central Planning and Housing Authority in collaboration with the Ministry of Amerindian Affairs, and the Inter-American Development Bank which has provided funding to the tune of $200M to provide affordable, sustainable houses in eight communities in regions One and Nine. This will be realised with the construction of 208 houses, 122 full houses and 86 thatched roof houses will have their roofs replaced with zinc sheets.
In Region One, the communities targeted are White Water, Manawarin and Oronoque. On Thursday, 23 households in White Water were given keys to their new homes while 27 others benefited from having modern roofs installed. Of the 35 completed projects in Kwatamang, 23 are roof replacements and 12 new houses, a total investment of $17,454,580. Approx-imately 30 residents gained employment in the process. The other recipients are those who benefited from the $18,578,720 spent in Katoka to complete 10 roof replacements and 12 houses.
The project is partially completed in the remaining three recipient communities.  At Massara, the project is 74 per cent completed, that is, seven roof replacements and seven of 12 houses have been completed.  Central Annai is 38 per cent completed with four roofs replaced and two of 12 houses completed. At Apoteri, six of 12 roof replacements have been completed and construction has started on nine of 12 houses for which work has been planned. This represents 27 per cent of the planned work. A total         of $6,501,778 is being invested at Massara; $14,784,560 at Central Annai, and $19,849,840 at Apoteri.
Under the project, beneficiaries from these villages, with assistance from the village councils, were able to assist in the design of the homes. The Region One houses are one-storey timber buildings elevated seven feet from ground level with four rooms, a veranda, and front and back stairs, measuring 500 sq ft with zinc roofing, guttering, fitting and a 400-gallon water tank. The Region Nine houses are one-storey built with flat burnt clay brick. They measure 20×25 ft, also have four rooms, zinc roof and a rainwater harvesting system including a 400-gallon water tank. For the full houses, the project provided all the materials and 40 per cent of the labour, while the beneficiaries contributed the rest of the labour. For the roof replacement project, the beneficiaries provided all the required labour, and the project provided the material.
Housing Minister Irfaan Ali said the presentation ceremony is a celebration of the beneficiaries' work and an achievement for government for being able to deliver on the project.
"These are all investments that we are proud to make on your behalf, these are all investments we think that you so richly deserve…for us, we are all equal and we all deserve equal opportunity and equal treatment…in the government lays a partner that will ensure you are equally treated every single time," he said. Ali also commended the skills the residents displayed building the houses and suggested that their skills could be used to build low income houses on the coast.
"We want to work with you to take this skill to another level…maybe to take you to build some of the homes in housing schemes for the low income families so that we can build off of the learning experiences of this project…we did not want this project to just be the building of these homes, we wanted it to be an experience that would improve your livelihoods and skills and an experience which would give you an opportunity to move another level up in life," he said.
Meanwhile, Amerindian Affairs Minister Pauline Sukhai said the housing programme shows that the government is committed to partnering with the indigenous people for their advancement.
According to GINA, after the ceremony, Rupertee, Kwatamang and Katoka collected their 2010-2011 presidential grants. A sewing machine was also presented to Rupertee for its sewing group.
Around the Web