Murder accused Kisean Azore, who was on trial for murdering Kurtland Kendall in 2008, was yesterday sentenced to 10 years in prison on a lesser charge by Justice Diana Insanally in the High Court.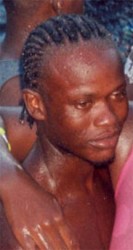 Azore had pleaded guilty to the lesser count of manslaughter on October 14. He was represented by attorney Mark Waldron.
The sentence started at 20 years, however, in handing down the sentence, Justice Insanally stated that she was taking five years off for the time Azore spent in prison, three years for the probation report presented and two years for the early plea.
It was alleged that on March 18, 2008, Kendall had visited a popular shop in D'Urban Street, Lodge to purchase food and an altercation occurred, during which he was fatally stabbed.
State Counsel Dhanika Singh presented the case for the prosecution.
Around the Web