The Progressive Youth Organisation (PYO) copped the prize for the overall best float in the Guyana Hindu Dharmic Sabha's annual Diwali Motorcade, which was staged last Saturday.
PYO members received the trophy for their achievement from President Donald Ramotar and First Lady Deolatchmee Ramotar at the La Bonne Intention (LBI) Community Centre Ground, where the motorcade ended, the Government Information Agency (GINA) has reported.
The Better Hope Mandir copped the first prize for the large category, while the Success Mandir came in first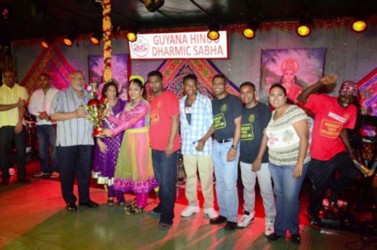 in the small float category. In addition, Edward B. Beharry won the first prize in the commercial category, while Rosignol Sanatan Dharma and the Golden Om Mandir won the awards for the most creative float in the small and large categories, respectively, according to the GINA report.
GINA noted that floats participated in the small and large category and were judged by a panel that included Minister of Culture Dr. Frank Anthony and artist Philbert Gajadar, among others.
It added that prior to the announcement of the winners, the judges explained the criteria used for awarding or deducting scores. Mishaps like the ones experienced on some floats, where the generator failed, causing the lights to go out, cost some of the participants, it said.
According to the report, patrons turned out in large numbers much earlier than usual at the ground. It was suggested that the presence of Bollywood singer Jeffrey Iqbal in the line-up of performing artistes may have been partly responsible for the large turnout that was evident long before the parade of floats started entering the ground.
Meanwhile, in his remarks at the ground, President Ramotar said that Diwali has a wealth of relevant messages.
"It is as you know, the victory of good over evil, the victory of light over darkness, the victory of knowledge over ignorance and these are all things that we have been working for," he said.
"We stand solid in the faith that good will triumph over evil," he added.
GINA noted that this year's celebration was the first without Guyana Hindu Dharmic Sabha founder Reepu Daman Persaud, who passed away earlier in the year. It said Persaud and late President Cheddi Jagan were honoured for their role in the struggle for democracy and the preservation of culture.
Around the Web