Two children are among the six persons who lost their home yesterday afternoon in a fire at Crane Housing Scheme, West Coast Demerara.
Up to late yesterday, Orita Davis, 25, and her family were considering staying at a friend's home in the wake of the fire that destroyed their rented flat at 14 Crane Housing Scheme.
The fire started around 2pm and quickly engulfed the home and the efforts of Davis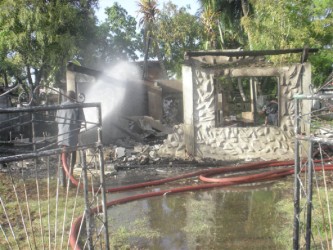 and firefighters were not enough to save the building.
Davis lived in the house with her two children, who are ages five years and four months, her mother, her brother and a cousin.
She and her children and a visiting friend were the ones in the house when the fire started. She was preparing to cook with her friend when she heard a loud noise from a bedroom.
Davis and her friend ran into the bedroom to investigate the noise and discovered that the entire room was covered in flames. Davis attempted to extinguish the flames using a tub from the kitchen but she was unsuccessful and the heat from the blaze forced her to grab her children and exit the house with her friend in tow.
Davis suspects that the fire may be the result of a wiring problem that she had been dealing with since she began renting the house in July.
According to her, it was plagued with electrical problems that would often leave her and her family sleeping in the dark. They were also often forced to shut down all their appliances when the wires sparked.
Although the problem was reported to the landlady, Davis was told that nothing could be done until the owner of the home returned to Guyana sometime this year. The landlady, who lives behind the burnt home and is reportedly out of the country, was unavailable for comment.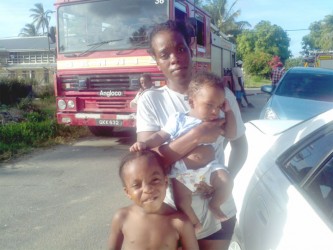 According to reports, the fire fighters from the Leonora Fire Station arrived when the house was completely engulfed by flames. Davis said that when the fire truck arrived, it had no water to extinguish the fire. Residents used buckets to try to contain the fire to Davis' home.
But when Stabroek News spoke with officer-in-charge Kurtland Harry about the claims of no water, he stated that people often talked about things they know nothing about. "Whenever we respond to any fire, we always have water in the truck," he said. However, he said that the water was "exhausted."
Meanwhile, Davis said she lost everything in the fire but noted that it was fortunate that she was at home with her children when it started, especially since she had wanted to go to the shop to make a purchase.
Around the Web