The Women's Progressive Organisation (WPO) remembers educator Anoopwattie Veeren as a teacher and mentor who served her country in myriad capacities with dignity, patience, commitment and courage.
In a press release, the WPO said no one expected that Veeren would not have recovered after she fell ill on October 18 and it is saddened by her passing. The WPO and its parent group, the People's Progressive Party, both of which Veeren served as a central committee member, are "much richer for having someone of her calibre to have served in our leadership."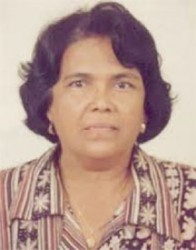 In reflecting on Veeren's life, the group said villagers of Helena No. 2 and Mahaica are still in shock at her passing.  Veeren was the Chairperson of the NDC, a Justice of the Peace and Commissioner of Oaths to Affidavits. She was also a member of the Local Board of Guardians and ensured that every person who needed help could access assistance.
Vereen was a teacher by profession and served as headmistress of the Helena Primary School.
"The children who needed lessons flocked to her bottom house classes because her results were also excellent. The young people who she encouraged to become involved in the Rising Star cultural group benefited from her experience and patience," the group said. She also trained women countrywide on local government issues through the National Democratic Institute and served in the mandir in her community.
Veeren had four biological children but for the children who she taught and mentored, she was like their mother, the release said.
Around the Web