Caricom Secretary-General Irwin LaRocque says that the regional body looks forward to strengthening development cooperation and friendship with Israel.
LaRocque was speaking at the accreditation ceremony of Amiram Magid, the first Plenipotentiary Representative of Israel to Caricom. A release from the Caricom Secretariat said that Magid is non-resident Ambassador of Israel to several Caricom member states.
The Secretary-General, in welcoming the ambassador, noted that Caricom states have benefited from a range of technical cooperation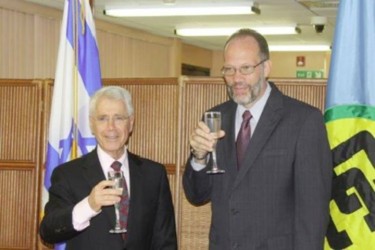 initiatives undertaken by Israel in areas that are critical to the region's development including health, agriculture, security, youth development, and entrepreneurship, particularly for small businesses.
LaRocque looked forward to the development of a more structured and formal cooperation mechanism between Caricom and Israel.
He stated that two important areas in which Caricom could benefit from a strengthened relationship were protected agriculture and water management and Caricom welcomed the opportunity to begin discussions on how to take advantage of the expertise and renowned technical capacity of Israel in these areas.
The Secretary-General also thanked Israel for its contribution to the permanent memorial to the victims of slavery and the transatlantic slave trade which was being spearheaded by Caricom. He highlighted the campaign by Caricom leaders for attention to be paid to the issue of reparations for the consequences of slavery.  LaRocque stated that Israel was uniquely able to comprehend the call for reparations since the Israeli people have earlier successfully sounded a similar call for reparation for the tragedy of the holocaust.  He hoped that Caricom can learn from the Israeli experience and claim similar success.  According to the release, the Caricom Secretary-General outlined a number of other priority matters for the community that he believed that Caricom and Israel can work together at the international level.  These include the issues of non-communicable diseases, the arms trade treaty, and the inclusion of disabled persons on the Post 2015 Development Agenda.
He said that Caricom had noted the active role played by Israel in drafting the UN Convention on the Rights of Persons with Disabilities as well as its commitment to implementation of the Convention in Israel and at the international level. He informed that Caricom places great importance on this issue and will be pleased to work in close partnership with Israel.
LaRocque said that in the Caribbean, like in many other parts of the world, non-communicable diseases constitute a grave public health and development threat that requires strong global partnerships to combat.  He said that the United Nations had taken an important step in the right direction in 2011 when the political declaration of the high-level meeting of the General Assembly on the prevention and control of non-communicable diseases was agreed.
Around the Web