A US-based Guyanese man charged with shooting his wife in October waived his preliminary hearing on Wednesday in Shawnee County District Court, Kansas the Topeka Capital Journal Online reported yesterday.
Chief Judge Nancy Parrish entered a not guilty plea to the charge of attempted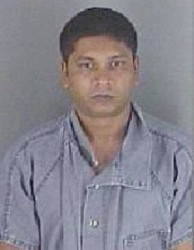 intentional second-degree murder after Sheik Azeez, 37, stood silent on making a plea.
The trial is expected to start on January 21 and Azeez is currently in the Shawnee County Jail in lieu of posting a bond.
According to the Journal, Azeez was arrested by Topeka police on the night of October 12 in West Topeka.
The victim who was shot multiple times, was standing by yesterday to testify, but she wasn't called to the witness stand after Azeez waived his preliminary hearing.
The victim was admitted to Stormont-Vail Regional Health Center in a stable condition and has since been released from the hospital.
Police were called at 8:15pm on October 10 to 1306 S.W Summit Woods Drive, the Overlook Apartments complex atop Huntoon Hill, on the report of a shooting. Shortly before 10pm, a man matching the broadcast description of the person being sought was located by police about a block from the shooting.
Police took Azeez to the Law Enforcement Center for questioning and he was booked on October 11.
Around the Web