The Georgetown Chamber of Commerce and Industry (GCCI) is now hosting a job bank on its website to facilitate job placement for at-risk youths.
The United States Agency for International Development (USAID) Skills and Knowledge      for Youth Employment (SKYE) Project job bank is intended to help young people who have benefitted from training provided under the project to find employment.
The GCCI will update the information on its website as information is relayed by the SKYE project,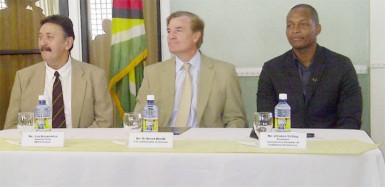 officials said at a simple ceremony to launch the initiative at Duke Lodge, in Kingston yesterday.
Speaking at the launch, Dr. Jan Karpowicz, SKYE Chief-of-Party, said the job bank is "…for those who are not equipped for job hunting the traditional way and lack the means of presenting themselves to prospective employers, which is very, very important."
He further explained that "…It will give employers the opportunity in surveying and evaluating individuals who they may wish to be inviting for an interview…."
Karpowicz explained that the SKYE project targets at-risk youths who are in a social environment that is potentially criminal. "The project will allow them to unlock the potential they had, re-igniting their ambition, helping with the burden of cost of living, helping themselves, families, community and in helping with the country of Guyana," he said.
He also stated that some of the trainees were "…young people who never really benefited fully from the education system, and yet they are ambitious, they are determined for the future, they demonstrate good qualities of a prospective employee." He did, however, note that many of the people they have worked with were not particularly good at reading or writing.
GCCI President Clinton Urling, who officially launched the job bank with US Ambassador to Guyana Brent Hardt, said that he was involved in the project before its launching. He said German's restaurant hired trainees, who got good reports on their performance. He also stated that the genesis of the job bank was a direct result of a difficulty in locating employees.
Hardt, meanwhile, said the "innovative collaboration" between USAID's SKYE project and the GCCI will provide a new way to link "work ready young men and women with potential employers," which he noted is a vital element in supporting development of an opportunity for Guyana's young people.
"The young men and women who will participate in this new job bank have already received extensive training, coaching and mentoring from dedicated USAID SKYE staff and volunteers," he pointed out, while noting how eager the trainees are to put into practice what they gained.
The ambassador also expressed his gratitude towards the GCCI and particularly Urling for the leadership in the initiative. "Your willingness to host this job bank on your website and to help market it to the private sector will be critical elements in its success," he said, while noting that from the initial launch of the USAID SKYE programme, the private sector has remained a vital and vibrant partner in supporting and creating new opportunities for Guyana's young people.
The ambassador made a special note of how critical local private and public sector leadership is. "Absent strong and vibrant local private and public sector leadership, the achievements made so far under USAID's SKYE porgramme would not have been possible," he said.
According to a document issued by SKYE's Project Officer Tomaisha Hendricks, "SKYE ex-pands education, skill building, and employment for at-risk youth in Guyana, with the goal of reducing youth crime and violence by strengthening economic participation and civic engagement.
The four-year project provides targeted alternative sentencing, work-ready training, and livelihood coaching activities for 1500 youth ages 15-24, in regions 3, 4, 5, 6, 9, and 10. Integral to the success of the project are coaches assigned to each of the youth participants.
The SKYE Coach works with each young person to develop an individual Employability Plan, and then supports them to find and maintain a job, begin a small-business, or reintegrate back into education."
The document also stated that the project objectives are to "expand employment, education and skill-building opportunities for youth at-risk, strengthened re-integration of youth offenders in society and strengthened enabling environment for youth development."
Around the Web