Murder accused Cyon Collier, called 'Picture Boy,' yesterday denied the fatal shooting of brothers Ray Walcott, called 'Sugar,' and his younger brother, Carl Andrews, called 'Alo,' at Victoria, East Coast Demerara in September 2006
In an unsworn statement in the High Court, Collier once again maintained his innocence in the murders, for which he is being retried. Collier was on trial last year before Justice Diana Insanally but after six hours of deliberation, the jury reported that they were split on Collier's guilt. Eight had found him guilty, while four found him to be not guilty.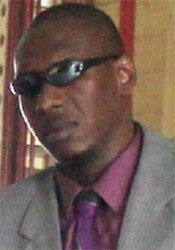 Collier told Justice Navindra Singh and the 12-member jury yesterday that he was in Linden doing odd jobs while waiting to go to work in the interior. Collier said that he was innocent and that he had been in prison for the past seven years for a crime he knew nothing about. He said that he had never used a gun, much less an AK-47 rifle, which was used in the slaying of the brothers.
He also said that an eyewitness, Kwesi Stewart, called 'Silver,' had told lies during his testimony. Stewart had testified earlier in the trial that he was positive that Collier was the person who shot 'Sugar' and chased after 'Alo' while shooting at him. Stewart had said that he was playing dominoes when Collier came up with a gun on his back. He had also said that Collier was the only person there at the time with a gun.
The man also said that he was sure it was Collier as he had known him all his life.
The brothers were standing at the corner of a road watching a game of dominoes, when it is alleged that the accused, dressed in black clothing and with a gun slung across his back, rode up on a motorcycle on September 23, 2006. Collier then allegedly began talking with the men, after which he started shooting, and Walcott and Andrews were fatally shot.
Senior State Counsel Judith Gildharie-Mursalin yesterday closed the prosecution's case after calling Medex of the Georgetown Prisons Sharin Cumbermack, who testified that she was the keeper of all medical records at the prisons.
The Medex told the court that on October 9, 2006, Collier was examined from head to toe and that he had no complaints or injuries. She said that on the 18th of March, 2007, he complained that he had a swollen scrotum.
She also said that before she had testified last year, Collier asked her if she could testify that police had slammed a drawer on his scrotum and caused it to swell. The Medex said that she told him that he should have come to her earlier so the complaint could be recorded and documented.
Government Pathologist Dr. Nehaul Singh and Firearm Expert Sergeant Eon Jackson had also testified on Tuesday. Singh had said that Walcott's body bore multiple gunshot wounds, which would have resulted in immediate death. He said that while Andrews was shot at least three times, he died as a result of perforation of the lungs as a direct result of a single gunshot wound.
Collier's lawyer Lyndon Amsterdam had argued that Walcott could not have died as a result of multiple gunshot wounds and that several aspects that were listed in the post-mortem examination report were inaccurate.
Jackson, in his testimony, had said that the shells that were recovered from the crime scene came from an assault rifle used in the execution of the brothers. He said that the weapon bore the serial number of AK 11801, which was later identified as one of the weapons that went missing in 2006 from the Guyana Defence Force.
The state and defence are expected to address the jury today and the case will be handed over to the trial judge for summing up on Monday.
Around the Web