WASHINGTON,  (Reuters) – A son of Suriname's president invited people he thought were from the Lebanese paramilitary group Hezbollah to set up a base in his country to attack Americans in exchange for millions of U.S. dollars, U.S. prosecutors said today.
Federal prosecutors who already were pursuing drug charges against Dino Bouterse, a son of President Desi Bouterse, filed the latest allegation in U.S. District Court for the Southern District of New York.
The younger Bouterse's defense team said in a statement that he "is not, and never has been a supporter of any terrorist organization and never intended to render aid to such an organization."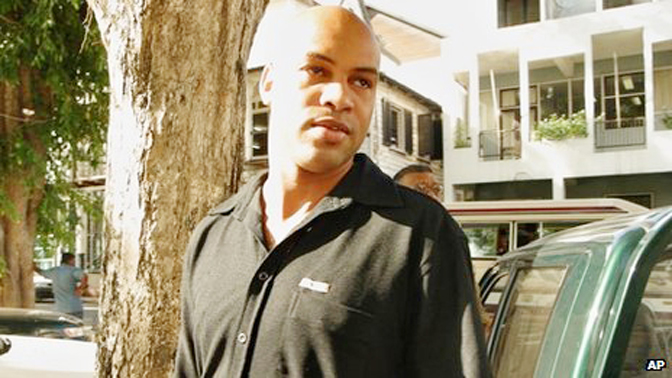 Dino Bouterse held a senior counterterrorism post in the South American country, but was arrested in Panama in August and sent to New York to face charges of smuggling cocaine into the United States. He pleaded not guilty to those charges.
According to a superseding indictment, U.S. authorities recorded conversations Bouterse had with unnamed people and at least one U.S. agent who posed as members of Iranian-backed Hezbollah.
The U.S. State Department has designated Hezbollah a foreign terrorist organization since 1997, and U.S. officials have sought to limit the group's operations in South America.
The U.S. indictment said Bouterse was willing to allow Hezbollah fighters to have a permanent base in Suriname and agreed to an initial payment of $2 million. The indictment charges Bouterse with violating a U.S. law against providing support to a foreign terrorist organization.
Desi Bouterse is a former military dictator accused of human rights violations, such as the killings of 15 political opponents in 1982. He ruled from Suriname 1980 to 1987, and reclaimed power in 2010.
(de Ware Tijd)
'We hit the jackpot'
PARAMARIBO – Dino Bouterse, in a multi-million dollar deal, has promised Hezbollah a permanent basis in Suriname for targeting Americans. This statement is included in the indictment against Bouterse currently on trial for drugs and arms trafficking. The new charge was added to the case when Bouterse appeared before the Manhattan judge on Friday. The 23-pages charge by district attorney Preet Bharara shows Bouterse's greed. For money he was willing to make deals with alleged terrorists and drugs traffickers. After completing the deal in Greece, Bouterse sent a text message to his associate Edmund Quincy Muntslag telling him that they had hit the jackpot. Bouterse had been lured into a trap by DEA agents who posed as terrorists. The charge has detailed records of meetings between Bouterse and the agents. He promised to smuggle drugs into the US and facilitate the terrorists in Suriname. A test smuggling operation of 10 kilos earned Muntslag the sum of US$ 60,000. The charge also names a third suspect who has not been named. Contacts with Bouterse were most likely laid in December 2011. He met again in February this year with agents posing as representatives of Mexican drugs organizations. Bouterse had promised back then he could facilitate trafficking operations through Suriname and the sale of arms.  Muntslag and the third suspect were present at that meeting and have been filmed by the agents. On 28 June Bouterse filled in an application for a Surinamese passport for his foreign associates. He promised he could easily get drugs in Miami through Trinidad. The men were given the passports on 3 July. The drugs transports would not exceed 20 kilos a week. The stuff would be placed in the luggage of unsuspecting travelers and Bouterse would alert his associates which suitcase to look for. Muntslag succeeded on 27 July to get 10 kilos of drugs on a flight to Trinidad, but they were intercepted by Trinidadian authorities upon arrival. On 31 July Bouterse discussed the creation of a private army with one of his business associates. The Hezbollah would be accommodated with training facilities for 30 to 60 men in Suriname. Bouterse's only condition was that no American targets in Suriname were allowed. He also demanded 10 heavily armed men at his disposal at any time as his private army. In Panama Bouterse met again with alleged terrorists and even promised one a diplomatic passport. His pay US$ 2 million.
Around the Web