Economist and bookshop owner Bholan Boodhoo, 65, died early yesterday morning after he was struck down by a Guyana Power and Light (GPL) minibus along the JB Singh Road.
Police said investigations have revealed that the driver of minibus BGG 4671 was proceeding north along the roadway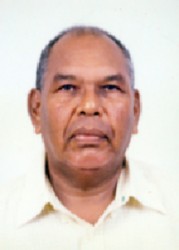 allegedly at a fast rate when Boodhoo, who was reportedly attempted to cross the road, was struck down.
Bibi Baksh, 55, of Stanley Place, Kitty, who was also crossing the road, was hit by the vehicle as well.
She is currently a patient at the Georgetown Public Hospital (GPH). The driver of the bus is in police custody.
Boodhoo's wife, Mahadai Boodhoo, speaking with Stabroek News from their Lot 41 Third Street, Alberttown home, said an early morning jog has been part of her husband's routine for the past 17 years.
Mahadai said yesterday her husband got up around 4 am and prepared to take a walk. She added that she followed him out to their gate before she realised he had forgotten his cap. As she wiped the tears from her eyes, Mahadai said her husband told her he would go without his cap.
She added that she then ventured into their home, proceeded to cook breakfast and put together a fruit salad for her husband. The accident occurred at 4:45, according to police.
"Around 5.45 am, the phone start to ring. Ah seh, ah who this tek them eyes fuh pass me? Calling so early in the morning," Mahadai said.
When she answered the phone, a caller by the name of Peter Cato informed her of the calamity that had befallen her husband.
Mahadai said she did not think much of the call, since her husband had left on foot and she did not anticipate anything serious.
She added that she then called her friend who accompanied her to GPH and subsequently to the scene of the accident.
At the hospital, Mahadai said, she was told to take a seat before she could be informed of her husband's fate.
On being told that Boodhoo had died on the spot, she said, the shock and emotional pain was excruciating.
Boodhoo, who was the owner of the Horizon Bookstore, was described as a very accomplished man.
He studied at the Swansea University in the United States of America and at the Bradford University in United Kingdom, among other places.
Friends and family members said he was also very peaceful, quiet and well respected. Mahadai struggled to comprehend her loss and worried about receiving justice for the death of her husband.
She exclaimed that her husband was the best husband she could have ever asked for and added that he took care of her.
The couple had been married for over 20 years and Mahadai said they had lots of plans that have now been cut short.
A post-mortem examination is scheduled for Monday. Meanwhile, AFC leader Khemraj Ramjattan, at a press conference yesterday, said that AFC was filled with sadness at the death of Boodhoo, who he described as a member of the party and a political colleague.
"He has done a lot of work for us and only recently we have called upon him again to be a part of the budget talks at Ashni Singh's office," Ramjattan explained.
"It saddens us all and our condolences go to his family, his daughter and grandchildren," he added, after noting that on only on Thursday afternoon Boodhoo had attended a seminar on children books in Linden.
Boodhoo is survived by his wife, daughter and three grandchildren.
Around the Web