Police ranks came under fire during a drug eradication operation at 15 Miles, Ituni Backdam on Thursday afternoon.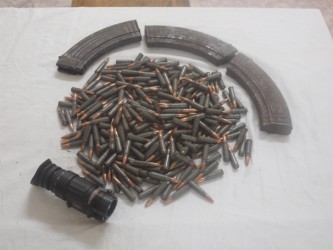 Four men are now in custody following a shootout that ensued, while two others managed to escape. Ten fields comprising about 5,000 cannabis sativa (marijuana) plants, ranging in height between
1 foot and 7 feet, were found and destroyed along with three camps in the area, the police force reported yesterday.
"During the operation the police ranks came under fire and returned fire as a result," the force said.
Police, however, managed to arrest four men and recover 271 rounds of 7.62 x 39 ammunition, three AK-47 rifle magazines and a telescopic night vision lens.
Around the Web