Security guard Roy Harilall died of injuries he sustained in an accident along the Prospect Public Road on the East Bank of Demerara on Thursday night.
Harilall, 64, of Section 'E' Golden Grove, East Bank Demerara, was riding his motor cycle along the roadway when he was hit by a car at around 11:50pm.
Sources say that the driver of motor car PDD 7385 was proceeding north along the roadway while Harilall was proceeding in the same direction.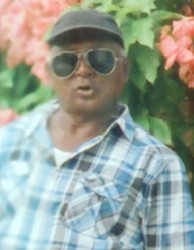 The driver of the car is reported to have attempted to overtake another vehicle but the front left side of the vehicle collided with the rear of Harilall's motorcycle.
After the accident, Harilall was taken to the Diamond Diagnostic Centre, where he was treated before being subsequently transferred to the Georgetown Public Hospital (GPH), where he was pronounced dead on arrival.
The driver of the car is presently in custody, according to police.
Kowsillia Harilall, wife of the deceased, told Stabroek News that her husband was travelling home from work when the tragedy struck. She said that her husband normally visited the Bourda Market to purchase vegetables after he finished working.
She received a phone call from the Diamond Centre at about 12:20am on Friday morning and she was informed that her husband had been in an accident. "Me nah expect that he woulda be dead. When them call me, I seh, no he deh in the bed with them children asleep," Kowsillia said.
She said that when she visited him at the Diamond Centre, he was conscious and she added that he was in so much pain that he begged to be administered an injection while he was being placed into the ambulance to be transported to the GPH.
Kowsillia added that it is being claimed that her husband was intoxicated at the time he met his demise, but she was adamant that he was sober at the time.
She said that he husband only drank alcohol on Saturday nights after receiving his wages.
At the time Stabroek News visited Harilall's home, family members and friends were gathering for a wake. He was described as a peaceful man, who always kept a smile on his face.
A post-mortem examination is expected to be done next Monday.
Harilall is survived by his wife, two children and two grandchildren.
Around the Web