Public Works Minister Robeson Benn has identified some shortcomings in some aspects of the response during the simulated plane crash emergency exercise staged by the Cheddi Jagan International Airport (CJIA) on Wednesday.
Over 300 personnel from the Guyana Fire Service (GFS), the Guyana Defence Force (GDF), the Guyana Police Force (GPF), the Red Cross Society, Customs and Immigration, Ministry of Health, and the Guyana Civil Aviation Authority, police force, participated in the mock emergency exercise,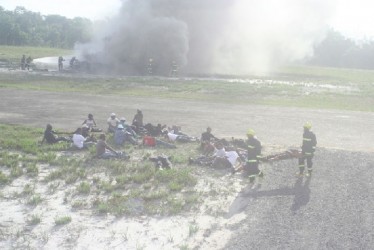 in keeping with the requirements of the International Civil Aviation Organisation (ICAO).
Benn, who witnessed the exercise, said it is staged every two years in keeping with the ICAO requirement.
"These simulations are part of the certification requirements for an international airport. So every six months, there is table-top exercise, every year there is a partial simulation exercise, and every two years there is a mass casualty exercise simulation, which today event was about," he said, according to a Government Information Agency (GINA) report.
The minister observed that "more energy and assertiveness and control" could have been demonstrated in some areas; however, evaluators from ICAO would have observed the exercise and assessed the performance of the stakeholders.
Chief Medical Officer at the Health Ministry Dr Shamdeo Persaud felt that the exercise was conducted well. "I think it worked well, with everyone being clear about their responsibilities on how to contribute in a crisis," he was quoted as saying. He pointed out that success in such health crisis exercises are very dependent on how well organised the reaction is, and how smoothly the response personnel move the persons who are assessed to be critical to access care."
Persaud also lauded the response by the medical personnel from the Diamond and Georgetown hospitals. He noted that the staff responded immediately to their signals. "I think that was good, that the local medical personnel were able to respond so quickly. All three sites responded adequately," he said. According to the planned logistics, both Diamond and Georgetown hospitals are charged to respond with an ambulance and medical support staff in the event of a crash.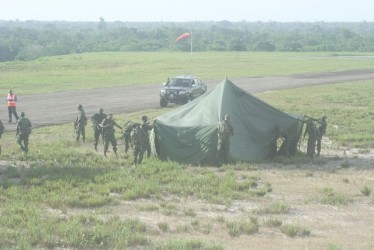 GINA said the exercise entailed the GFS first arriving at the crash scene and putting out the fire created by the crash zone. Fire fighters also did the initial extraction of the 'passengers' from crash site to a collection area. The persons were then moved to a triage area set up by the GDF, the second responders to the crash. The triage area allows health workers to assess, tag and treat injuries away from the danger of the crash site. The injured are tagged into three broad groups: dead, critical and not so critical. The victims are then moved to a more organised area before being transported to nearby hospitals. The crash victims were then moved to a more organised care area before being transported to nearby hospitals.
Preparation for the simulation exercise started about six months ago, GINA said.
Around the Web