Balkissoon 'Boi' Daichan, 42, a carpenter of Rosignol, West Bank Berbice, was found hanging in a cell at the Blairmont Police Station on Thursday evening, hours after he was arrested for threatening his wife.
The newly-widowed Roshini 'Geeta' Narine, 40, told Stabroek News that she made the report to the police around 4:30 pm and they arrived and took Daichan away. Around 10 pm the same day, she received a call that he had hanged himself in the lock-ups.
Narine fainted. She said her sisters visited the station about one hour later but by then the body was already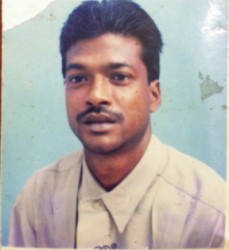 taken to Anthony's Funeral Home at Fort Wellington.
Police said in a release issued yesterday that Daichan was "found hanging from the grill work of the lock-ups with the use of a tee-shirt that he was wearing at the time."
Police, who said an investigation is underway into the man's death, noted that "he was the only prisoner in the lock-ups. He was pronounced DOA at the Fort Wellington Hospital."
Narine said her husband was clad in a pair of blue jeans and a chequered shirt. When she saw him at the mortuary yesterday, he was still fully clothed, except that his shirt was hanging off one of his arms. His right hand was lifted up and his neck was twisted to one side.
Police also said that Daichan had breached a protection order issued by the court resulting from incidents of domestic violence between them.
Narine recalled accompanying her husband to the station in the police vehicle and him begging her, "Ow Geeta, look how me love yuh. Gimme last chance na, me guh change."
But she responded: "You always saying that you gon change but yuh neva change." In tears she lamented "….and look at the change he give me now."
After waiting for a while at the station the police told her she could leave and return on Monday when her husband would be charged. They did not take a statement from her.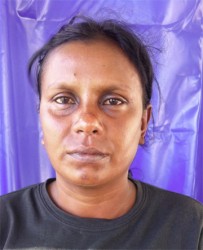 Two weeks ago, she recalled, he was locked up for two days and was charged and placed on a bond to keep the peace for six months. That meant that he had to quit consuming alcohol as that habit resulted in him becoming violent.
He promised his wife that he would. But he continued to drink and she made a report to the police who advised her to get a protection order.
The bailiff served the document but the man later tore it up and out of fear she made another report to the police. He was charged in his absence and the magistrate granted another protection order. He was also compelled to vacate the house within one week.
Two days later, a bailiff put him out of the house with his belongings. But later that afternoon he returned and she informed the police. When they arrived to arrest him, he was lying drunk in the house and "they couldn't move him."
After the police left, he went away and she later learnt that he had gone to his mother's house at Wales, West Bank Demerara.
She did not hear from him until Thursday afternoon when he visited her mother's house in the village to help to prepare for a nephew's wedding this weekend.
He told their 19-year-old daughter, who is married and pregnant, that he wanted to see her mother and that he wanted her phone number. She and her relatives tried in vain to get him to leave and he threatened "to kill me and then kill heself."
 Abuse
According to Narine, they got married 21 years ago and since then she endured constant abuse at Daichan's hands.
She, however, admitted that while she was in an abusive marriage, whenever they ended up at the police station she would "always settle things wid he." At one time he was fined $50,000 or six months imprisonment. No one had paid the fine and he stayed in jail for one week until his got sick and Narine borrowed the money from his employer and bailed him. "He eased up the drinking for a couple days and after that he start again," she said.
Daichan, she recalled, would leave early in the morning and return in the afternoon under the influence and demand food and money. Sometimes, he slept "all over; road, dam and so."
She had asked his relatives to help her take him off the road because he would "beg people and take the money" and purchase alcohol. There are times when the woman would not have food or money in the house. She would sometimes go out and do domestic work to maintain them.
Around the Web