An Air Services Ltd aircraft suffered wing damage after swerving to avoid hitting someone as it was about to land at the Kwakwani Airstrip, Region 10.
The incident occurred at 10:17 hrs yesterday, the Ministry of Public Works said in a release.
The release said initial reports say that a young man allegedly ran across the airstrip just as the pilot, who was conducting a training flight, was about to land.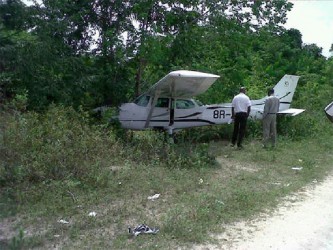 The release said neither the pilot nor the young man, a resident of the community, who is apparently deaf, sustained any injuries. The right wing tip of the 8R-A55 aircraft was damaged.
Safety inspectors from the Guyana Civil Aviation Authority and police are currently on the ground speaking to eyewitnesses.
Such an incident could have ended disastrously had it not been for the vigilance of the pilot, Minister of Public Works and Transport, Robeson Benn, stated in the release.
"The ministry continues to stress the importance that an aerodrome is only for the use intended [to land aircraft]. We have been confronted with persons cutting the wires around the aerodromes to allow their animals to graze and roam free, and in many instances persons use them as roadways," Minister Benn said. "It is a critical issue that we are arresting with."
In recent years there have been several instances where persons and animals have gotten onto airstrips while planes are preparing to land. There have been calls for improved security at these airstrips.
This incident also follows the botched take off of a small plane on the island of Wakenaam just over a week ago. That plane had crash-landed on the island in late 2011 en route from Trinidad to the Cheddi Jagan International Airport.
Around the Web